Manufacturing activity in China's factories has shrunk for five months straight in March, registering an eight month low of 48.1 from February's final reading of 49.5, a preliminary private survey showed on Monday.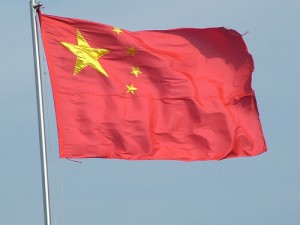 That result is well below the line of 50, separating expansion from contraction.
According to the article on Reuters, the Chief China Economists for HSBC said the weakness of China's economy was broadly based and they expected Beijing to launch a series of policy measures to stabilize the growth of the world's second largest economy.
The disappointing results of the survey knocked down the country's main index and other Asian markets off early highs and lopped around a quarter of a U.S. cent from the Australian dollar, which is often used as a proxy for Chinese risk.
On a brighter note, the new export order sub-index grew for the first time in four months, suggesting China's mild slowdown is primarily being driven by weakness at home rather than softer demand from abroad.
"Usually, for the month of March, the PMI will rebound, because after Chinese New Year, there should be some activity coming back, but this PMI is disappointing," said Wei Yao, China economist at Societe Generale in Hong Kong.
"The government probably will have to provide some supporting measures. I think the slowdown is not over yet and our expectation is that the deceleration will continue into Q2," she added.
Unlike the official index, which contains greater number of large and state-owned firms and has showed slight but slowing growth in the first two months of this year, the Markit/HSBC PMI is weighted more towards smaller and private companies.
China's economic indicators since the turn of the year have caused concerns about a slowdown in the country's economy.
China's leaders want domestic demand to play a bigger part in the massive economy. The government is stepping aside to let market forces play a bigger role, but experts feel the Government will have to intervene and provide certain supporting measures.
"We expect Beijing to launch a series of policy measures to stabilize growth. Likely options include lowering entry barriers for private investment, targeted spending on subways, air-cleaning and public housing, and guiding lending rates lower," said Hongbin Qu, chief China economist at HSBC, in a note accompanying the PMI data.
Further, Premier Li Keqiang said last week investment and construction plans would be accelerated to ensure domestic demand expands at a stable rate.
The survey showed an increase in the country's employment sub-index, though the number remained below 50. It is one of the few indicators to measure the health of China's labour market, an area of priority for Beijing as it sees low unemployment as a means to maintain social stability.
"We don't expect a significant stimulus response from the authorities. The labour market, now policymakers' primary concern, remains healthy," Julian Evans-Pritchard, Asia Economist at Capital Economics in Singapore, said in a note.