Universal Robots, the globally renowned maker of collaborative robots – or cobots – used in manufacturing, has been acquired by computer equipment maker Teradyne for $285 million in cash.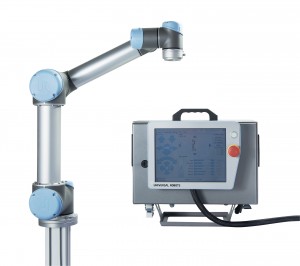 According to the official news release by Teradyne, the acquisition deal could include a further $65 million "if certain performance targets are met extending through 2018".
The transaction is expected to be finalised in the second quarter of this year; once the transaction is complete, Denmark-based Universal Robots will operate as an independent business while leveraging Teradyne's scale and global footprint to accelerate their growth.
"Universal Robots is the technology and sales leader in the fast growing collaborative robot market and we are excited to have them join Teradyne. This acquisition complements our System and Wireless Test businesses while adding a powerful, additional growth platform to Teradyne," said Mark Jagiela, President and CEO of Teradyne.
"The combination will boost our ability to innovate and recruit even more and thus will extend our lead within collaborative robotics and be of benefit to all our end-users and partners. At the same time, we are proud to add a brand new line of business to Teradyne. Our operations have been profitable since late 2010. Teradyne's world-class engineering and support capabilities and strong financial position will help accelerate the growth of our collaborative robots in new and existing markets, especially in Asia where Teradyne holds a very strong position," said Enrico Krog Iversen, CEO of Universal Robots.
Cobots are low-cost, easy-to-deploy, simple-to-program robots that work side by side with production workers to improve quality and increase manufacturing efficiency. They automate tasks including machine tending, packaging, gluing, painting, polishing and assembling parts and are deployed in the automotive, food and agriculture, furniture and equipment, metal and machining, plastics and polymers, and pharma and chemicals industries.
Two months ago, Universal Robots unveiled the UR3 – the most flexible, lightweight tabletop robot in the world, developed to work alongside humans.