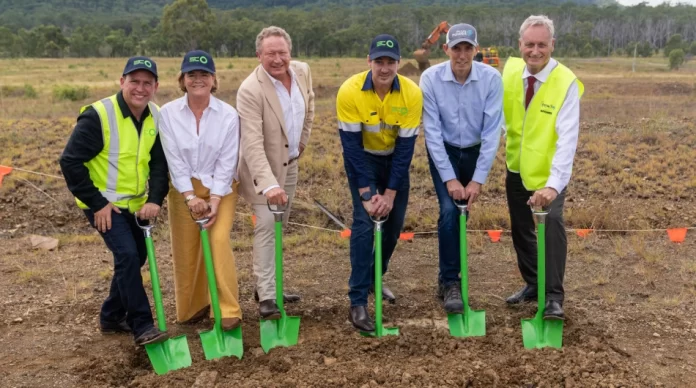 Fortescue has announced that it has started to construct of the world's largest electrolyser facility in Gladstone Queensland.
According to the official announcement, the A$114 million electrolyser facility is the first stage of Fortescue Future Industries' (FFI) Green Energy Manufacturing Centre (GEM).
With an initial capacity of two gigawatts per annum, the facility is projected to produce over 200,000 tonnes of green hydrogen each year.
As a result, Queensland is on its way to become a world leading hub for the manufacture of electrolysers which are key to the production of green hydrogen.
The facility is a 50-50 joint venture (subject to approvals) between FFI and Plug Power Inc.
The first electrolysers which will be manufactured in early 2023 are earmarked for FFI's proposed green hydrogen to ammonia project at Gibson Island.
"The GEM will become an epicentre for Queensland's green hydrogen ambitions, building on Gladstone's skilled workforce and great foresight in industrial master-planning including a world class port," said Dr Andrew Forrest.
"The world is moving on from fossil fuels and the green industrial revolution is underway. Fortescue Future Industries' game changing electrolyser facility in Gladstone is putting Queensland at the centre of this revolution, which is creating an entirely new industry and thousands of multi-generational jobs for Australian".
According to FFI Chief Executive Officer Julie Shuttleworth, the global demand for electrolysers is expected to soar since the entire world is looking for ways to transition to new energy sources.
"Fortescue Future Industries is ahead of the curve. The electrolyser facility is set to be complete by early next year and will quickly scale up to meet the growing demand for electrolysers. We plan to manufacture other renewable energy components in future expansions," Ms Shuttleworth said.
The construction of the GEM will generate over 100 jobs during the construction phase, while up to 50 permanent jobs and several hundred indirect jobs which will support the local supply chain will be generated once construction is finalized.
"The partnership we've forged with Twiggy and his team will create local jobs, support our economic recovery and create an advanced manufacturing industry in Gladstone that doesn't exist anywhere else in the country," said Queensland Premier, Annastacia Palaszczuk.
"There is no doubt that the hydrogen industry will play a key role in future employment, investment and export opportunities for Queensland."
Image credit: https://ffi.com.au/news/construction-commences-on-world-leading-electrolyser-facility-in-gladstone-queensland/