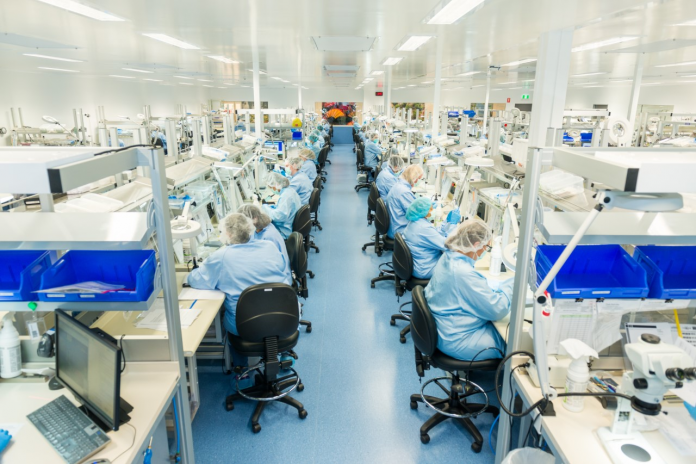 Media Release
Medical device manufacturer Cook Medical is celebrating 40 years of manufacturing excellence in Australia, where its team has grown from a dozen people to more than 600 today.
The global manufacturer's Australian story began in Melbourne, where it opened a small office in 1979 before becoming one of the first businesses to establish an Australian headquarters in the Brisbane Technology Park in 1988.
Today, Cook Medical Australia is one of Queensland's largest medical device manufacturers and exporters. The team exports more than 94% of its locally manufactured products to medical providers around the world with devices across two product families. Stent-grafts are used for endovascular repair of aortic aneurysms and in-vitro fertilisation assists those trying to conceive a child. Both product lines were invented and developed in Australia, with the former developed in partnership with Perth-based vascular clinicians, and the latter with pioneering IVF units in Melbourne and Sydney.
Achievements over the last 40 years include a number of accolades with the most recent being named the 2018 winner of both the Premier of Queensland's Export Award for Health and Biotechnology and the Lord Mayor's Business Award for Investment in Brisbane, which recognised the company's commitment to innovation, investment in people and export growth.
'We are excited to celebrate 40 years of history, innovation, manufacturing and export success with our colleagues, friends and families – not only here in Australia, but across the globe,' said Dr Samih Nabulsi, Vice-President and Managing Director of Cook Medical Australia. 'Over 40 years we've been proud to play a part in Australia's biomed sector, employing more than 50 engineers and scientists who are exploring ways to contribute to our industry and ultimately help patients around the world'.
'We wouldn't be here today without the hard work and commitment of all our employees—60 of whom have been with the company for more than 20 years. We will continue to invest in our people, manufacturing facilities and product development over the years to come,' Nabulsi continued.
Employees at Cook Medical Australia are participating in a range of events this year; celebrations kicked off in early June with a Family Day at Brisbane Technology Park, which offered staff the opportunity to share with their families what they do each day and how they are contributing to patient health outcomes and will culminate in a special celebration later this month.
Image Provided