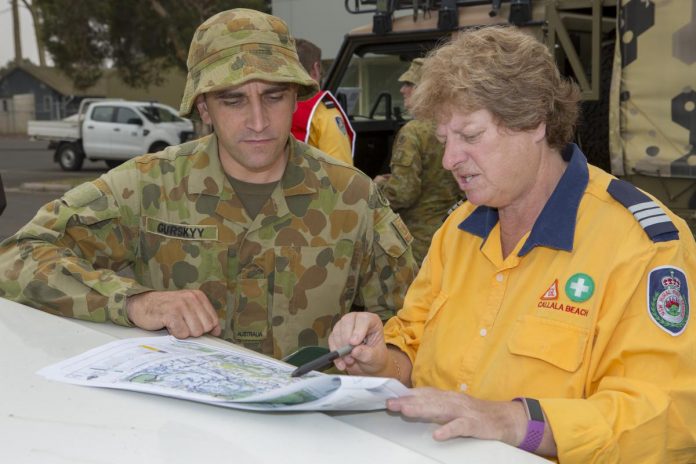 Media Release
The Australian Defence Force's (ADF) contribution to the bushfire crisis has been increased significantly following the call out of Reserve Forces and commitment of other specialist capabilities.
The increase in personnel and resources is enhancing those forces already in position and integrated with state emergency services and resources. To support integration with state authorities, all ADF teams visit communities with a person from the relevant state agency (RFS, SES, Police).
The historic call out is further enhanced with the commitment of more ADF aircraft, ships and other key equipment, including one of our largest vessels, HMAS Adelaide.
Three Joint Task Forces (JTFs) have been established to facilitate ADF support to emergency services in Victoria, NSW, South Australia and Tasmania.
Defence has also opened its bases throughout the affected regions from Brisbane to Adelaide to provide temporary accommodation for displaced people.
The priority for Defence is to assist in ensuring the safety of life, assist with the evacuation of affected people from isolated communities, support recovery centres, assist with temporary accommodation at bases and move materiel and supplies.
We are now deploying more capabilities into affected areas and building additional integrated teams based on the Call Out of the Army Reserve Brigades.
The work of the ADF will continue to complement the significant work of the state authorities.
Our efforts will be widespread, comprehensive and – like all emergency response efforts – necessarily prioritised to support where the need is most critical or where the ADF's unique capabilities are best suited to the task at hand.
Working with the Commonwealth Department of Health and state health authorities, Defence is providing emergency health support in response to emerging needs in fire-affected communities. This will commence with a joint needs assessments, coordinated by the National Critical Care and Trauma Response Centre (NCCTRC) alongside ADF personnel, as ADF medical capabilities are being forward positioned.
The New Zealand Defence Force and the Singapore Armed Forces are also providing support through military assets and personnel. ADF planners are currently engaging with their New Zealand and Singaporean counterparts on the specific details of that assistance.