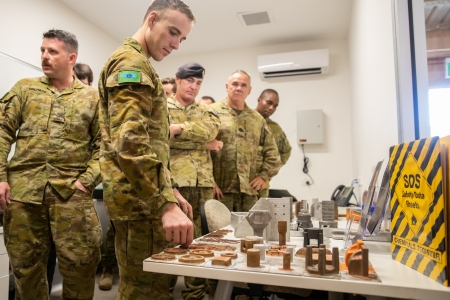 The Australian Army will trial a cutting edge 3D printing technology delivered in Darwin and used by the Royal Australian Navy.
The 12-month trial of this new metal 3D printing technology will be carried out by Defence, Melbourne company SPEE3D and Charles Darwin University for the Army's 1st Combat Service Support Battalion.
Defence Industry Minister Melissa Price said the $1.5 million investment in the 3D printing technology will fast-track Army's supply chain and increase capability.
"The partnership with CDU and SPEE3D demonstrates Defence's continued commitment to embracing advanced technologies that will speed up our processes," Minister Price said.
"This will reduce the requirement for our soldiers to deploy with bulky repair parts, redefining how logistics are deployed on the future battlefield."
"It's a great example of how Australian industry is at the forefront of global innovation, and providing unique solutions to filling capability gaps."
SPEE3D CEO, Byron Kennedy said: "This is another very exciting announcement for SPEE3D and the Australian Defence force."
"This Army program, in parallel with a similar project happening with The Royal Australian Navy, will enable the Australian Defence Force to grow our sovereign capability and lead the world in the field of additive manufacturing."
Image credit: www.cdu.edu.au