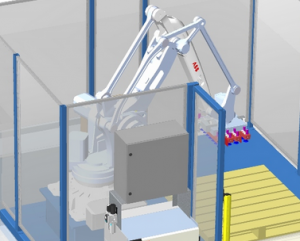 Robotic solutions are often deemed too expensive to be availed by small businesses, aside from the fact that robotic systems could be too complicated for smaller manufacturers.
However this does not mean small manufacturers are exempt from processes such as lifting and stacking boxes, bags, or other products unto a pallet. Manual stacking of products on pallets come with the risk of injury to workers.
According to Robotize, because of the hazards associated with manual stacking, occupational health and safety (OHS) regulations are put in place to protect workers from musculoskeletal disorders and manufacturers are required to eliminate activities that may result to injury as far as is reasonably practicable.
Robotize's new robotic palletizer system for small businesses eliminates the risk of injury altogether and is simple to use, reliable and suitable for a wide range of product types and sizes.
The affordable system costs as little as $38,000 a year, at less than $20 per hour, with the robot working at 40 hours a week.
No mechanical adjustment is required to swap between products and the modular base can be easily moved by forklift. New products can be set up in a matter of minutes with no need for programming knowledge. The system also requires minimal maintenance and offers a range of options to meet the business' needs.
Robotize believes their new solution would be reasonably practicable for a huge number of businesses which are currently stacking their products manually.
To know more about the system and other Robotize solutions, businesses may reach Robotize through their website.