Ego Pharmaceuticals Pty Ltd has been awarded a $250,000 Victorian Coalition Government grant to expand its Braeside facility and double bottle filling capacity across the business.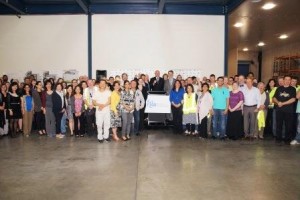 The grant will be directed towards the $14.6 million expansion project for the skincare products businesses which will see the company extend its flammable goods production capacity, boost exports by a substantial $40 million and create 63 new jobs.
"Over the past 60 years Ego has been at the forefront of new technology and investing for the future. Our new facility will double our bottle filling capacity and enable us to grow our business both here in Australia and to our export markets," said Alan Oppenheim, Managing Director at Ego Pharmaceuticals.
"As we continue to grow and develop new skincare innovations, we continue to create more jobs in Victoria – in February we commence our first night shift enabling 24 hour production, it's a very exciting growth period for Ego and our staff."
Minister for Manufacturing David Hodgett said Eco Pharmaceuticals was among the latest 16 manufacturers that have been awarded grants under the Investing in Manufacturing Technology (IMT) program – a key initiative of the Victorian Coalition Government's Manufacturing Strategy aimed at promoting Victoria as a global hub of excellence in manufacturing and a rich source of jobs.
"This project is an important step forward for Ego as they continue to go from strength to strength," Mr Hodgett said.
"This project will to create another 63 jobs, which is fantastic news for the local community – Ego is a Victorian manufacturing success story which has grown to become Australia's largest privately-owned skincare manufacturer since it was established in Melbourne in 1953."
The new flammable goods facility – which represents the biggest production expansion for Ego to date – will enable Ego to produce more Aqium Antibacterial Hand Sanitiser, as well as MOOV Head Lice treatments, SOOV Bite, Resolve solution and select SunSense sunscreens.
Ego is an Australian family-owned company which was established by Gerald & Rae Oppenheim in 1953 in a suburban Melbourne. It employs 430 staff worldwide, 270 of which are based in Victoria.