A new Centre for Advanced Design in Engineering Training (CADET) was opened at Deakin University's campus at Geelong Waurn Ponds on Tuesday.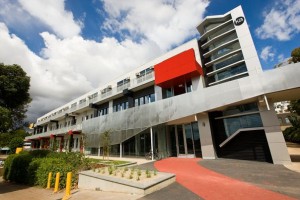 The new $55 million CADET features the southern hemisphere's first immersive virtual reality lab which will give regional and rural students greater opportunities to develop a career in engineering.
Speaking at the official launch of the new facility, Vice-Chancellor Professor Jane den Hollander said the lab was the cornerstone of a new, Australian-first, approach to teaching engineering.
She said the new Centre will allow Australian students for the first time to learn how to engineer solutions to problems in a hands-on workplace environment, rather than the traditional passive theory-based model of learning inside a static lecture theatre.
"Because of our new approach, and the world-leading technology inside CADET, our students will be solving real-world problems in partnership with industry from the very beginning of their degrees," Professor den Hollander said.
"Australia has been staring down the barrel of complex challenges within manufacturing for several years now, firstly as the decline of the automotive industry gathered pace, and now as the economy feels the pinch from a reliance on the weakening resources and commodities sectors."
Minister for Education and Training Simon Birmingham, who attended the opening ceremony alongside Member for Corangamite Sarah Henderson, said the Australian Government had committed $21.5 million to CADET's design, modelling and prototyping facilities.
"Modern facilities that provide students with the skills they need, in areas where we know there are jobs, are vital both in meeting in this case local engineering demands but also to attract students from outside of the Geelong region. Science, Technology, Engineering and Mathematics subjects are a key part to Australia remaining a prosperous economy," the Minister said in a media statement.
"These days, around 75 per cent of jobs in the fast growing industries demand workers with science, technology, engineering and mathematics skills. The Centre for Advanced Design and Engineering Training is helping us create a strong workforce with the science, technology, engineering and mathematics skills necessary to drive innovation and secure Australia's economic future."
Ms Henderson said the Centre will partner with local schools and vocational education and training providers, allowing students to see demonstrations of the latest equipment and get a taste of the exciting careers which come from studying engineering.
"The co-location of CADET with exciting ventures such as Carbon Revolution and HeiQ will undoubtedly create further partnerships between researchers and industry," Ms Henderson added.
"With our government's announcement of a $14m Advanced Manufacturing Growth Centre, also based at Deakin University, the CADET facility represents another wonderful investment in developing engineering and manufacturing excellence in our region."