The Federal Government has announced the Request for Tender (RFT) for the replacement – Australian-made – Pacific Patrol Boats under the Pacific Maritime Security Program, Project SEA3036 Phase 1.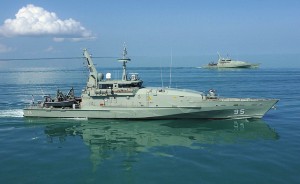 Australian shipbuilders have welcomed the RFT for the construction of up to 21 new patrol boats valued at almost $600 million.
The boats will be donated to Pacific nations as replacement for the older vessels.
Defence Minister Kevin Andrews said construction of the vessels was worth $594 million and their through-life support was estimated at $1.38 billion over 30 years.
"The Government recognises the significant value to our nation of a skilled naval shipbuilding workforce. The current Pacific Patrol Boat Program is the centrepiece of the Australian Government's engagement in the South Pacific," the Minister said.
According to the official news release, the replacement vessels will be basic steel-hulled vessels, up to 40-metres long and able to stay at sea for up to 20 days.
Replacement patrol boats have been offered to Papua New Guinea, Fiji, Tonga, Solomon Islands, Tuvalu, Kiribati, Samoa, Vanuatu, Micronesia, Palau, Republic of Marshall Islands, Cook Islands, as well as to new member East Timor.
Welcoming the announcement, BAE Systems revealed that it has already started drafting the bid for the tender.
"This is a very important decision by the Federal Government and we thank the Minister for bringing forward this project. BAE Systems has a strong heritage of building high quality ships in Australia, including the current fleet of Pacific Patrol Boats that have been operating successfully over many years and we look forward to submitting a very competitive bid for the replacement of that fleet," said Chief Executive, David Allott.
As part of its tender, BAE Systems will seek to leverage opportunities for its Australian supply chain.
"We have a supply chain that includes around 800 small and medium Australian businesses that will be very keen to contribute to this program and to retain some of their capabilities as well. This capability will be critical should the government decide to maintain a sovereign shipbuilding capability in Australia," said Mr Allott.
BAE Systems recently delivered the Royal Australian Navy's largest ever warship, HMAS Canberra and is also completing the second Landing Helicopter Dock (LHD), NUSHIP Adelaide, at the Williamstown shipyard.
"In addition to the LHDs, we are also the prime contractor for the Anti-Ship Missile Defence Upgrade program on the ANZAC Frigates which is being undertaken at our Henderson shipyard in Western Australia (all of the ANZAC Frigates were built at the BAE Systems Williamstown shipyard), and as a subcontractor to ASC, we are manufacturing high quality blocks for the Air Warfare Destroyer Program at excellent levels of productivity. All of our highly skilled shipbuilders are extremely proud of the ships and service we deliver to the Commonwealth of Australia and we are very much hoping to continue that tradition long into the future," said Mr Allott.