Winners of the New Product Awards at this year's Fine Foods Australia were announced on Tuesday night at the Sydney Convention and Exhibition Centre.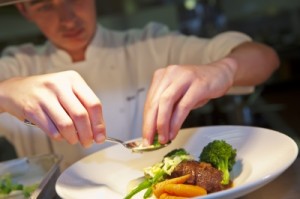 According to Fine Foods Australia, over 100 entries were judged in five separate categories which celebrated the best new products that were introduced to the Australian market in the last twelve months.
The Best New Hospitality Product Award went to Cookon Commercial for their Kay Bee Battery Operating Oil Filter Machine. The products are built in stainless steel throughout and are designed for safety and reliability. They are compact for easy use and storage and are fully mobile, allowing them to be moved around the customer's premises.
The finalists for the Best New Hospitality Product Award included Winerhalter for their Winterhalter PT Series and Scott's Ice Australia for their MVH460 Ice Machine R290 Refrigerant.
Best New Bakery Product went to Pac Food for their Biodegradable Piping Bag. These piping bags are made of heavy duty material, able to withstand high temperatures, anti-slip, cost-effective, and are available in two different sizes.
Finalists in this category included Perfect Food Manufacturing with their product Julie's Biscuits and Pac Trading with their Wooden Baking Moulds.
Chenco Foods was the recipient of the award for Best New Retail Product for their Yum Cha Prawn & Chive Wontons. The wontons are packed with prawns and fresh garlic chives wrapped in a pastry which can be served as a soup or a bite-size snack.
The two other finalists are Cape Foods' Pop Corners and Blue Spice Co's Thai Curry Cooking Sets.
Best New Foodservice Product award went to Lotus & Ming for the product Rustic by Lotus & Ming. The rustic canapés include mini wellingtons, arancini, empanadas and croquettes which are created using premium ingredients.
Simpson Farms' Australian Avocado Pulp and FruitBroo's range of hot drinks were named as finalists in this category.
Finally, the Australian Made Award went to Stoddart for their Mobile Fryer. Finalists in this category were judged by the Fine Food Australia judging panel and the Australian Made team.
Stoddart will receive a promotional package worth up to $20,000, which will include the free license to use the Australian Made logo for one whole year.
Organized by Diversified Exhibitions Australia, Fine Food Australia is a trade-only event that gathers over a thousand international and Australian members of the food, beverage, food service and hospitality sectors.
It was a venue for local manufacturers to connect with exhibitors, meet domestic and international buyers and network for new business opportunities. Visitors discovered new products and learned about the latest trends and technology in the food industry. Aside from the food visitors also got first-hand information about the latest world-class equipment from hospitality and catering manufacturers.