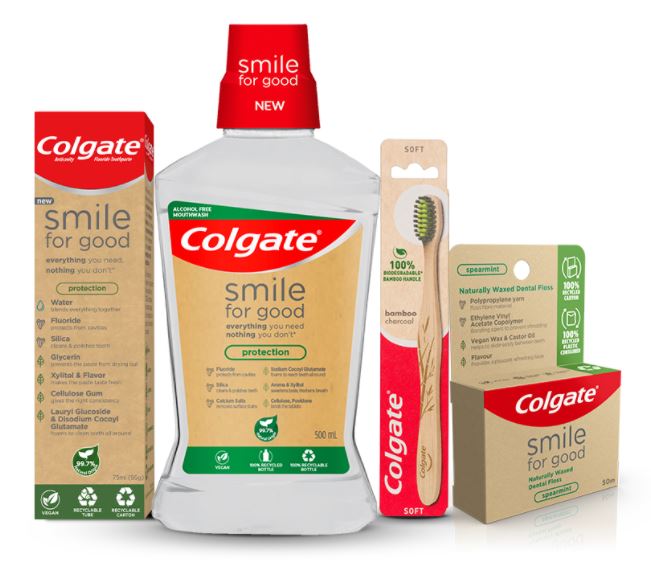 Media Release
Colgate-Palmolive has today announced the launch of its new toothpaste – Colgate Smile for Good – in Australia, featuring a recyclable plastic tube and 99.7% natural ingredients.
Kicking off a transformation of the toothpaste category, the tube is the first of its kind to be categorised as recyclable under the Australasian Recycling Label Program, a packaging recyclability program run by the Australian Packaging Covenant Organisation (APCO). It is made from high-density polyethylene (HDPE) and can be placed in kerbside plastic recycling bins.
After five years in the making, Colgate's recyclable tube has hit shelves across Australia. With the aim to encourage all toothpaste tubes on the market to become recyclable, Colgate is openly sharing its tube technology with interested companies and competitors.
Simon Petersen, General Manager, Colgate-Palmolive South Pacific, comments, "The Colgate brand is in more homes than any other, so we can and we will create a healthier, more sustainable future for all with this significant packaging development.[2] Making toothpaste tubes part of the circular economy will help keep plastic productive and eliminate waste. There is a lot of work ahead, but launching Colgate Smile for Good is a major first step.
"Colgate-Palmolive wants all toothpaste tubes to meet the same third-party recycling standards that we've achieved, so we are openly sharing our technology with toothpaste competitors as well as manufacturers of all kinds of tubes."
First-of-its kind recyclable tube
Most of today's toothpaste tubes are made from sheets of plastic laminate – usually a combination of different plastics – sandwiched around a thin layer of aluminium. The mix of materials makes it difficult to recycle through conventional methods. As a result, some 50 million tubes go into landfill annually in Australia, which is the equivalent to stretching twice across Australia.
Colgate Smile for Good changes this by using high-density polyethylene (HDPE), the same plastic used to make 2L milk bottles and other plastic containers that are already widely recycled. Having previously thought HDPE was too rigid to create a squeezable toothpaste tube, Colgate engineers developed an innovative solution to combine different grades and thicknesses of HDPE laminate into a tube that meets recycling standards, while still protecting the product and holding up to the demands of high-speed production, all while remaining comfortably squeezable.
Brooke Donnelly, APCO, Chief Executive Officer, comments, "A huge congratulations to Colgate-Palmolive for bringing this first of its kind recyclable packaging to the market. It's fantastic to see companies striving to phase out difficult to recycle materials, innovating to find recyclable alternatives and sharing those learnings and technology to help transform the wider market. This collective, ambitious approach by organisations across the supply chain will be critical for Australia to meet its upcoming waste and recycling deadlines, including the 2025 National Packaging Targets."
Everything you need, nothing you don't
Nearly 70% of consumers are concerned by the impact products have on the planet and their health.[3] By containing a minimal amount of ingredients that are of 99.7% natural origin and clearly explaining the purpose of each ingredient in simple language on the front of its recyclable packaging, Smile for Good allows Aussies to make an informed decision on their choice of toothpaste.
Furthermore, the formula is responsibly made[4] and is Sodium Lauryl Sulfate (SLS)-free, vegan, gluten-free, and sugar-free.
Colgate's sustainability journey
Building on ongoing efforts to help Australians make small, sustainable changes for the better, including the launch of the Colgate Bamboo Charcoal Toothbrush and TerraCycle partnership, Colgate Smile for Good is improving the brand's sustainability profile to help achieve?its global target of 100% recyclable, reusable or compostable packaging by 2025 and Australia's 2025 National Packaging Targets.
The new Colgate Smile for Good range also contributes to Colgate's ongoing work supporting the UN Sustainable Development Goals and the Ellen MacArthur Foundation's New Plastics Economy Global Commitment, which aims to accelerate the transition to a circular economy. And as a result of the Smile for Good tube technology, Colgate-Palmolive was named on Fast Company World's most innovative companies list in March 2021.
Colgate Smile for Good toothpaste is now available for purchase across all major retailers in Australia, including Woolworths, Coles, Amazon, Chemist Warehouse, and Priceline with an RRP of $8.00.[5] The toothpaste is available in two types: Smile for Good Protection and Smile for Good Natural White. The range also includes Smile for Good Protection mouthwash, Colgate Bamboo Charcoal toothbrush, and Smile for Good dental floss.