The Victorian Automotive Transition Taskforce has held its first meeting on Monday with a goal of helping Victorian automotive businesses, workers and communities transition to new opportunities and secure jobs.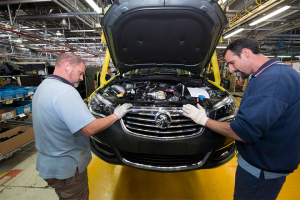 The meeting was chaired by Minister for Industry Lily D'Ambrosio, who was joined by fellow taskforce members, Minister for Employment Jacinta Allan, and Minister for Training and Skills Steve Herbert, along with representatives from Ford, Holden, Toyota, unions and industry groups.
Also attending the meeting were local MPs, who will chair local automotive transition taskforces that will provide advice on emerging issues affecting communities most impacted by the closure of the car manufacturers – particularly Melbourne's North, West, South-East and Geelong.
Ms D'Ambrosio said the taskforce was established to help oversee the implementation of Victoria's Automotive Transition Plan, which includes:
$5 million Automotive Supply Chain Transition Program to help businesses identify and capture new opportunities in other markets
$33 million Local Industry Fund for Transition to support communities hit hard by the departure of Ford, Holden and Toyota
$8.4 million to strengthen skills, training and job search support in Melbourne's South-East
Up to $7,000 incentive payments for businesses employing retrenched auto workers
Minister for Employment Jacinta Allan said the end of car-making in Victoria required resolute actions to help affected workers prepare for the future.
"As our economy changes, we cannot leave these workers and their families behind. We need to help them adapt and find new jobs, which is what this taskforce is all about," she said.
Minister for Training and Skills Steve Herbert said new Skills and Jobs Centres were also being established across the TAFE network, providing one-stop-shops to assist workers – including those in the auto industry – to access training and job support services.
"Quality training to get the right skills is an integral part of workforce opportunities and our investment in TAFEs will help achieve that," Mr Herbert added.