The G20 Summit – made up of 19 of the world's major and emerging economies, as well as the European Union – will be held on 15 and 16 November at the Brisbane Convention and Exhibition Centre in Brisbane, Queensland.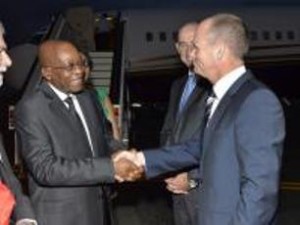 Around 4,000 delegates and 3,000 media representatives are expected to attend the most important meeting during which a wide range of global economic issues will be discussed.
Member countries including Australia, Canada, China, France, Germany, Russia, the United Kingdom and the United States meet annually to discuss economic cooperation.
Australia has assumed the rotating presidency in 2014 and is chairing this year's summit.
The first of the international leaders attending the G20 Summit, South Africa's President His Excellency Jacob Zuma, arrived yesterday. Mr Zuma was welcomed by Premier Campbell Newman.
"It was a pleasure to meet Mr Zuma and welcome him to our great State this morning. Some of the world leaders attending here would not have visited Brisbane before and that makes this a unique opportunity for Queensland. The next few days will give us a chance to build on Queensland's global reputation as an exciting business destination and a hub for innovation and science. What that means is more jobs both now and for our children as we look to harness these opportunities," the Premier said in a statement issued yesterday.
"The world's leading economies are all represented at the G20 Summit and it is appropriate to hold the event here. Queensland is Australia's engine room, with the economy growing quickly around our four pillars of tourism, agriculture, resources and construction. We have done a lot of work to create momentum in Queensland, but there is more to do and this summit will help build on our strong plan to secure our State's future."
For further information, please go to https://www.g20.org/