170 workers of disc brake pad manufacturer FMP Group Australia continue their strike two weeks after voting on a stop-work action over enterprise bargaining terms and conditions.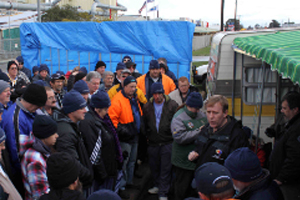 According to the Australian Manufacturing Workers' Union (AMWU), union members have been in protest from the Ballarat factory as the FMP management attempted to fulfill orders using skeleton crews of outside contract labor without specialized skills.
AMWU says FMP has been giving contradictory messages, first reassuring workers that it will not erode leave rights, classification levels or pay, but continues to insist changes on an existing agreement which would give them the right to do so.
FMP wants to remove an important clause from the existing agreement which protects workers from any loss of wages or conditions.
At present manufacturing workers earn a base salary of about $1250 a week while production workers receive about $865 weekly with each multi-skill level worth at least three per cent extra to them.
Warehouse employee Ruby Hay says members were concerned that FMP's insistence to change the agreement is linked to their intention to acquire the right to cut pay and demote them through the multi-skill classification structure if the machines they qualified on had been replaced by newer technology.
"People have worked up to those skill and pay levels and adjusted their commitments in life for that' They should not lose that," Ms. Hay said.
"No one likes a strike but there's too many catches with this agreement and people are too savvy these days to accept that."
FMP is also saying no to giving backpay despite dragging the process out for eight months, a tactic which, according to AMWU, has deprived workers of nearly two years of pay rises in the past decade.
"It's a waiting game, we're ready to talk but the company is being stubborn," says local organizer Mr. Colin Muir.
He and AMWU State Secretary Steve Dargavel spoke to members last week, giving them the reassurance that the AMWU and its resources are fully behind their stance.