Fonterra announced the Board approval to invest $235 million in a new high-tech, high-efficiency milk powder plant at its Pahiatua site in the Manawatu.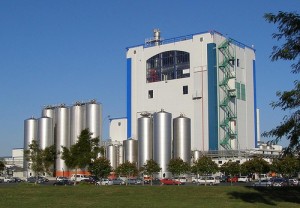 According to the company's ASX announcement, the Co-operative will now process an additional 2.4 million litres each day.
"This new drier in Pahiatua will help drive greater efficiencies across our manufacturing footprint. Last season we set a new record for the most milk collected in one day and overall milk production has been increasing by roughly three per cent each year. This drier will help us process the extra milk in a way that delivers the most value to our farmers," said Robert Spurway, Director of NZ Operations at Fonterra.
According to him, the Co-operative took this step in order to meet the growing demand for dairy nutrition on a global scale. This is but another demonstration that Fonterra has a precise strategy of optimizing New Zealand milk business.
"The demand for dairy nutrition around the world, especially for whole milk powder, is increasing. Our expansion at Pahiatua will ensure that Fonterra has the capacity to meet this demand and to process the continued growth of milk supply in New Zealand," added Mr Spurway.
The new drier will use energy-efficient processing technology and will be the first in the country to reuse its own condensate.
"This expansion will mean another 45 full-time jobs for the local community. That's on top of the hundreds of builders, labourers and others who will be working during the construction phase," said Tararua Mayor Roly Ellis.
According to Mayor Ellis, the investment by Fonterra and the possible construction of the Ruataniwha dam is extremely good news for the local dairy industry. This development will provide a much needed boost for the regional economy.
The construction of the new drier and all associated infrastructure is set to start in the middle of December.
The first package of produced milk powder will roll out of the site by September 2015.