Stratasys Ltd. (NASDAQ: SSYS), one of the leading manufacturers of 3D printers and materials for personal use, prototyping and production, has proudly announced that it has registered a rapid worldwide adoption of its Object30 OrthoDesk 3D printer.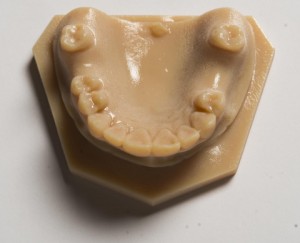 Since its introduction earlier this year, Objet30 OrthoDesk 3D printer has received high appraisal and great popularity in the world of the digital dentistry due to its affordable price, simple-to-use desktop system and overall cost—saving qualities, according to a media release on Business Wire.
While the previous models of 3D printers were only cost effective when applied in large labs due to cost considerations, Objet30 OrthoDesk 3D Printer is perfectly suited for use in dental labs of any size. Its incredible properties provide the smaller labs with new range of possibilities in terms of delivery time, production capacity and storage efficiency.
Tipped to change the landscape of digital dentistry, Objet30 OrthoDesk 3D Printer is equipped to efficiently produce stone models, orthodontic appliances, delivery and positioning trays, retainers and surgical guides,
"The Objet30 OrthoDesk 3D Printer is contributing to shortening lab service delivery times for our customers in Brazil; I definitely see it as a game-changer," said Dr. Bruno Gribel, CEO of Compass3D Brazil.
"We are witnessing a growing demand for our new Objet30 OrthoDesk 3D Printer," said Avi Cohen, Director, Global Dental, Stratasys.
"As dental labs constantly explore new ways to grow their business and increase productivity, they are looking to Stratasys' growing portfolio of customized 3D printers and unique dental materials. These solution offerings provide highly accurate and flexible 3D printing technology to smaller labs and clinics who want to benefit from the future of dentistry, today."
Lab owners of Objet30 OrthoDesk 3D Printer were quick to recognize the new opportunities and benefits presented by its innovative design:
"With industry-leading precision, the Objet30 OrthoDesk enables labs to create accurate, smooth, orthodontic models more easily than ever before," said Michael Wright, Laboratory Manager at Orthodent Laboratory Inc.
"With the Objet30 OrthoDesk, orthodontists can now automate the entire workflow from CAD file to model fabrication, significantly accelerating production times and increasing capacity," said Kendall Lamp, CEO of Accutech Laboratory.
"The Objet30 OrthoDesk comes with innovative dental printing materials. Stone models, orthodontic appliances, delivery and positioning trays, retainers and surgical guides can all be produced significantly faster and much more accurately than before," said Mike Lomax, President of Reliable Arts Dental Lab, Costa Rica.
Stratasys' Objet-line of Dental 3D printers has brought the company a string of awards in recent years, including the Dental Advisor 2013 Top Innovative Equipment Award, and the Dental Labs Products 2011 Readers Choice Award.