Ford Motor Co. and renowned ketchup maker HJ Heinz Co. have teamed up to investigate the use of tomato fibres in developing sustainable, composite materials for use in vehicle manufacturing.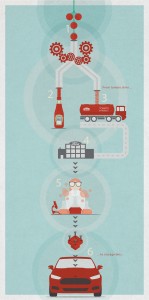 According to the press release by Ford, scientists from both companies are exploring the opportunity of using dried up tomato skin to develop a more sustainable bio-plastic material, which the carmaker intends to use for manufacturing various auto parts.
"We are exploring whether this food processing by-product makes sense for an automotive application. Our goal is to develop a strong, lightweight material that meets our vehicle requirements, while at the same time reducing our overall environmental impact," said Ellen Lee, Plastics Research Technical Specialist for Ford.
Heinz scientists have been searching for innovative ways to recycle and repurpose peels, stems and seeds from the more than two million tomatoes the company uses every year to produce its flagship Heinz Ketchup.
"We are delighted that the technology has been validated. Although we are in the very early stages of research, and many questions remain, we are excited about the possibilities this could produce for both Heinz and Ford, and the advancement of sustainable 100% plant-based plastics," said Vidhu Nagpal, Associate Director — Packaging R&D for Heinz.
The partnership between Ford and Heinz was first established in 2012, when both companies collaborated with the Coca-Cola Company, Nike Inc. and Procter & Gamble to accelerate development of a 100% plant-based plastic to be used to make everything from fabric to packaging and with a lower environmental impact than petroleum-based packaging materials currently in use.
Ford's collaboration with Heinz further highlights the company's commitment to reduce, reuse and recycle as part of its global sustainability strategy to reduce its environmental footprint and speed up development of fuel-efficient vehicle technology around the globe. Recent years saw Ford increase its use of recycled non-metal and bio-based materials, with cellulose fibre-reinforced console components and rice hull-filled electrical cowl brackets introduced in the last year.