Another 230 workers at Ford's Victorian plants in Geelong and Broadmeadows have lost their jobs on Friday as part of the company's plan to gradually reduce numbers ahead of its exit from manufacturing in Australia in October 2016.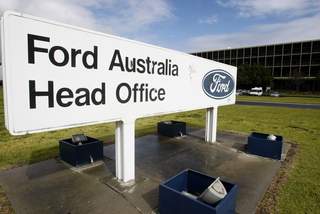 Ford have said in February that it would cut 300 jobs by June and offered workers a voluntary redundancy package, which only attracted about 50 workers.
To fill its quota, the company have rolled out another wave of compulsory redundancies on Friday, with at least 127 workers at its Broadmeadows plant and another 72 in Geelong said to be affected by Ford's decision, according to Yahoo News.
"Those separations began in May and will continue through to the end of the year. As we have said all along, we expected the majority to be compulsory separations," Ford spokesman Wes Sherwood told Australian Associated Press (AAP).
Australian Manufacturer Workers Union (AMWU) National Vehicles Division Secretary Dave Smith said this was a tough blow for Australia, for Ford and for the manufacturing sector in general.
"Despite reducing the impact of its decision to lower vehicle production through a voluntary redundancy program and redeployment to other non-manufacturing areas, 230 workers are being shown the door against their will. While the 230 Ford workers will be clocking off for the last time today, the impact will be felt right across the component and service supply sectors. The overall job losses will run into the thousands once the flow on impact is factored in," Mr Smith said in a media release issued on Friday.
"Ford and Union have been working together to assist workers in transitioning to new employment but the Federal government has done nothing to assist the process. The previous Labor government had made 5.1 million available to help support Ford and component supply workers. It had also allocated an additional 5 million should it be required. This additional support funding was ripped away by Joe Hockey as part of the Coalitions Federal budget."
The latest job cuts are part of the 1200 positions that will go from Ford when it ends manufacturing in Australia in 2016.