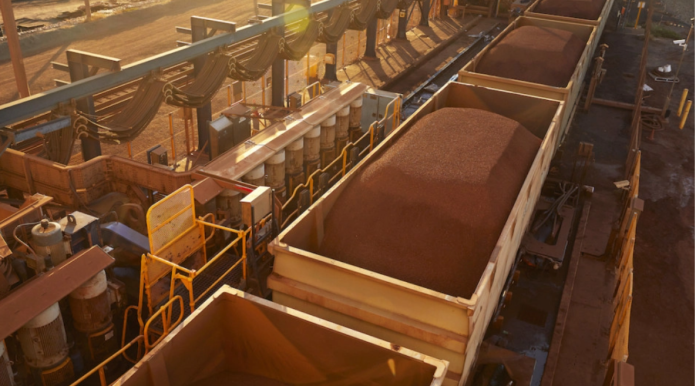 With the procurement of two new Battery Electric Locomotives, Fortescue has reached a new milestone in its decarbonisation programme.
Fortescue CEO, Elizabeth Gaines, said the new 8-axle locomotives will have a 14.5-megawatt hour energy capacity and will cut the company's emissions while also reducing fuel costs and overall operational expense.
"The purchase of these new battery-powered locomotives marks an important milestone in the decarbonisation of Fortescue's locomotive fleet and demonstrates our commitment to achieving carbon neutrality for Scope 1 and 2 emissions by 2030, as we diversify from a pure play iron ore producer to a green renewables and resources company," Ms Gaines said.
Fortescue Future Industries (FFI) Chief Executive Officer, Julie Shuttleworth, said FFI was a key enabler of Fortescue's decarbonisation strategy.
"Our Green Team has made outstanding progress in their mission to transform Fortescue's trains, trucks, ships, and other mobile equipment to operate on zero pollution fuels as soon as possible, and the purchase of these new battery-powered locomotives complements this work," Ms Shuttleworth added.
"Fortescue and FFI are working together to demonstrate that renewables can power the energy needs of Australia's mining and resources sector."
The locomotives will be built by Progress Rail, a Caterpillar company, at its factory in Sete Lagoas, Brazil.
"We are pleased to be working with the Fortescue team to determine the application, feasibility, and suitability of battery electric technology for deployment on their railway and to manufacture two of our BE14.5BB locomotives for this important project," said Marty Haycraft, President & CEO of Progress Rail, a Caterpillar Company.
"We look forward to continuing to support our global customers with innovative products and services to help them meet their sustainability goals," he added.
In 2023, Fortescue expects to receive its first battery-powered locomotive.
Image credit: https://ffi.com.au/news/new-milestone-for-fortescues-decarbonisation-strategy-with-purchase-of-two-new-battery-electric-locomotives/