GE Aviation, a global leader in jet engines and aircraft systems, yesterday announced that it will open a new $100 million jet engine assembly facility in Lafayette, Indiana.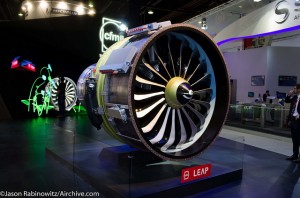 According to the press release by GE Aviation, the news 225,000-square-foot facility in Lafayette will assemble the new LEAP engine of CFM International, a 50/50 joint company of GE and Snecma (Safran) of France. CFM has already committed to deliver more than 6,000 LEAP jet engines to a number of airlines by 2016, which will be used to power new Airbus A320neo, Boeing 737 MAX, and COMAC (China) C919 aircraft for airlines worldwide.
LEAP is currently undergoing development testing and GE is expected to begin hiring at the new facility in 2015, once the engine comes closer to production phase. GE is expected to hire more than 200 workers by 2020 with the capacity to do final assembly for the engine as well as the engine's hot section (compressor, combustor, high-pressure turbine).
"We are thrilled by the airline industry's enthusiasm for the new LEAP engine and its ground-breaking technologies. Beginning in 2015, the LEAP engine will experience a dramatic production ramp-up for the remainder of the decade. We are grateful to the entire Indiana team for ensuring that our Lafayette assembly plant will be soon up and running," said David Joyce, president and CEO of GE Aviation, headquartered in Cincinnati, Ohio.
"With a nod to our past and an eye on our future, Indiana is a manufacturing state, with decades of experience in building the items that power our world. But we are also a state of innovation, developing the technologies of tomorrow. GE Aviation's plans in Indiana fuse the two. By selecting Indiana for its new jet engine facility, the company gains a workforce skilled at both developing the big ideas and bringing them to life," said Indiana Governor Mike Pence.
Final assembly of the LEAP engine at the Lafayette facility will involve using components and sub-assemblies from GE and Snecma operations and from their suppliers around the world. The LEAP engine will also be assembled at GE's existing engine assembly plant in Durham, North Carolina.
The new Lafayette plant will be the seventh GE Aviation facility opened in the U.S.in the last seven years. These facilities support more than 2,500 new jobs in the U.S. and investment in more than 1 million square feet of new facilities. The company is planning to invest more than $3.5 billion in plant and equipment at its sites worldwide over the next three years.