GE Hitachi Nuclear Energy (GEH) has introduced an innovative remotely operated tool that has successfully enabled nuclear technicians to complete tasks at the bottom of nuclear reactors more quickly and safely.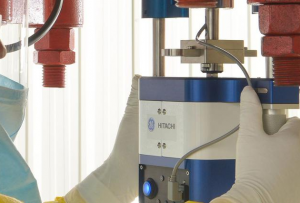 The wireless tool, which was unveiled in coordination with Exelon Generation, is designed to remotely disconnect control rods (one of the pieces of equipment that allows operators to control power production) from their associated blades at the bottom of the reactor during preventative maintenance.
According to the press release by GE, this wireless device minimises the amount of radiation that workers are exposed to and allows parallel work activities to take place under the reactor pressure vessel during service outages.
"The remote uncoupling tool is unique in the industry and another example of our singular ability to develop solutions to some of our customers' most challenging issues," said Kevin Walsh, GEH Senior Vice President, Nuclear Services and Fuels.
"It is also an important illustration of our use of 3D printing technologies, speeding our time to market by months and eliminating the significant expense of fabricating metallic mock ups."
The tool has been successfully deployed for maintenance work at the Dresden Generating Station in Morris, Illinois and the Peach Bottom Atomic Power Station in Delta, Pennsylvania, both operated by Exelon Generation which operates the largest nuclear fleet in the US.
The maintenance work performed with the tool saw a total of 19 drives uncoupled at the Peach Bottom and 25 at Dresden.
"Safety is at the forefront of everything we do. We are pleased to have worked with GE Hitachi on a tool that adds another layer of safety to our work process," said Exelon's Senior Vice President Dave Rhodes, who oversees refuelling activities across the 14 nuclear plants Exelon operates.
The tool is based on 3D printed prototypes created on-site at GEH's world headquarters in Wilmington, North Carolina. It has been shown to reduce radiation dose associated with uncoupling by as much as 60%.
To view the 3D printed prototype in action at an operating boiling water reactor, visit: https://nuclear.gepower.com/service-and-optimise/solutions/all-solutions/remote-uncoupling.html.