GE has been hard at work these past couple of years trying to develop technologies ranging from data analysis to machine monitoring and preventive maintenance to get 3D printing "ready for production prime time."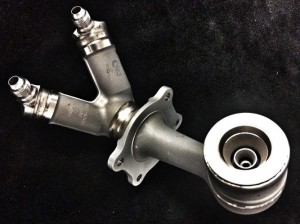 According to the latest GE report, the company is all set to open a world's first factory for 3D printing jet engine fuel nozzles in Auburn, Alabama.
The new $50 million plant is set to start production of fuel nozzles for the next generation LEAP jet engine in 2015 and will employ around 300 workers at full capacity.
Each LEAP jet engine — developed by CFM International, a joint venture between France's Snecma (Safran) and GE Aviation — will have nearly twenty 3D-printed fuel nozzles, as well as fan blades made from fourth-generation carbon-fibre composite blades and a hot section that includes parts from ground-breaking ceramic matrix composites (CMCs).
Thanks to 3D printing, GE's engineers are able to design the nozzles as one part rather than 20 individual parts. The 3D printed nozzles are five times more durable than the previous model and 25 percent lighter.
The LEAP engine is GE's best-selling engine; with over 6700 orders from 20 countries, the company is looking at nearly $96 billion in revenue.
The new plant will be using a 3D-printing method called direct metal laser melting (DMLM), which grows parts directly from a 3D computer drawing by melting together thin layers of fine metal powder with a high-powered laser.
The process is quite complex and it can take days or weeks to build a part, so monitoring quality is of the utmost importance.
GE Aviation's inspection technology collects and analyses manufacturing data and is able to spot potential trouble like temperature anomalies while the part is still being made.
"The technology stores the data and allows engineers to pull it up later during X-ray and other conventional testing to determine what went wrong or worked well," reports GE.
GE will install 19 fuel nozzles into each next-gen LEAP jet engine and plans to produce 100,000 3D printed components for the GE9X engine as well, the world's largest jet engine, set to be installed on the next-generation Boeing 777X plane.
Check out the video below.