The Commonwealth Government will invest $14 million in an Advanced Manufacturing Growth Centre in Geelong to support the transition from traditional to advanced manufacturing in the region.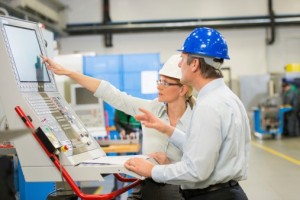 The Centre will be integrated with a network of centres across the country and will develop a sector competitiveness plan to link local businesses with global companies.
"The Plan will identify jobs and skills needs, provide a pipeline of innovations ready to commercialise, and consider areas for reforming regulation, manufacturing transformation and growth," reads yesterday's joint announcement by Prime Minister Tony Abbott, the Assistant Minister for Education and Training, Senator Simon Birmingham, and Federal Member for Corangamite, Ms Sarah Henderson.
In support of the initiative to nurture skills for the future in the region, the Government also announced that Newcomb Secondary College will introduce an industry partnership to better prepare students to enter the workforce.
"The Commonwealth has committed $500,000 towards establishing the Pathways in Technology Early College High School (P-TECH) model at the College in 2016," reads the Government's announcement.
"The P-TECH school programme will focus on the jobs of the future in science, technology, engineering and mathematics, partnering with local industry, and providing vocational pathways."
In addition to these measures, the Government has also allocated further $1.3 million to extend the role of the Geelong Employment Facilitator.
"The Government will also establish a new Job Connections Office and Geelong Region Future Jobs Taskforce," it says in the announcement.
"The Geelong Employment Facilitator will continue to assist people affected by Geelong's economic transition and work to identify and deliver new job opportunities across the Geelong region."
The Employment Facilitator and Geelong Region Future Jobs Taskforce will work closely with the Advanced Manufacturing Growth Centre to identify jobs and the skills needs for the region.
A TradeStart Office in Geelong will provide local businesses with access to Austrade's export advisory services across all sectors, enabling them to gain access to key export markets for future jobs and growth.