One thousand one hundred jobs are at risk of becoming redundant as General Motors looks to cut shifts by half at one of its plants in South Korea in a move to realign its global manufacturing operations, according to a source with knowledge on the matter.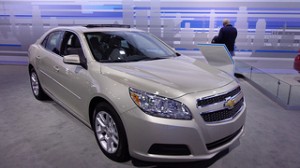 According to the information published on the Reuters report, GM Korea has proposed to the labour union that the current two shifts at its plant in Gunsan will be reduced to one. The change is expected to make half of its 2,200 manufacturing employees redundant.
The source, who declined to be named because he or she is not authorised to speak to the media, said GM Korea and its labour union were in talks over the proposal. The company has yet to elaborate on their plans address the possible job cuts, whether employees will be offered a voluntary retirement scheme, put them on leave, or offer to shift them to other factories.
"The Chevy pullout would have a direct blow to the Gunsan factory. GM expects its production in Gunsan to shrink to 100,000 this year and 120,000 next year… The union wants to maintain two shifts, and instead cut the number of cars produced per hour," the source said, quoted in the report.
GM Korea's spokesperson has declined to give a comment on the matter.
The Gunsan facility has an annual production capacity of 260,000 vehicles. The factory, which is one of GM Korea's four vehicle manufacturing lines, produces the Chevy Cruze and Orland SUVs. The plant employs 1,700 full-time production workers and 500 temporary ones.
In December General Motors announced that it would stop selling its Chevrolet-branded cars in Europe by the end of 2015. The decision has the potential to affect production and jobs in South Korea which produces most of Chevy cars sold there.