Sydney start-up company Sneaking Duck has partnered up with industrial engineer Andrew Simpson at Vert Design to offer its customers the option to personalize their glasses frames by using 3D printing.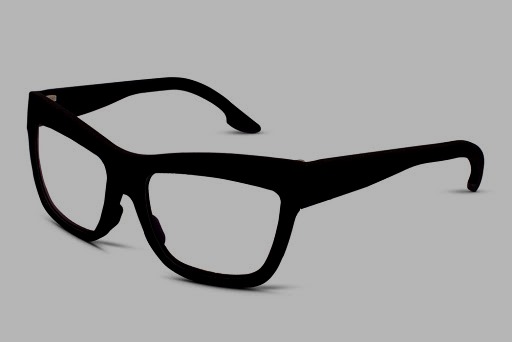 According to the article on Computerworld, the e-commerce website launched the 3D printing service yesterday, presenting its customers with an option to get custom-made frames tailored to their specific face features.
Customers will be able to choose from four base designs created by Simpson and then six colours: black, white, royal blue, violet purple, coral red and hot pink. They will also choose the arm length and optionally add text (17 characters) to the outside left arm. The frames can be fitted with prescription lenses and shades.
The $360 frames are made from nylon using a technique called selective laser sintering (SLS), which uses a laser to transform a powdered material into a solid structure. The material which is used to manufacture the 3D printed frames is lighter and more flexible than acetate, the material typically used to manufacture standard frames, and it also shows wear and tear more than acetate, which, according to Sneaking Duck, is a product feature.
"For instance, they'll fade in the sun and their rugged, sandy texture will smooth over time," according to the Sneaking Duck website.
"In fact, these frames will look so well-loved; expect jealous outbursts from your other frames."
Sneaking Duck had been entertaining the idea to utilize the 3D printing technology in its products ever since it launched its Web store two years ago, Sneaking Duck founder and CEO Mark Capps said. According to him, they had been waiting for the right moment and the right quality of 3D printing to proceed with their plans.
"There's sort of this intersection between the right quality and the right price, and I think that's really happening now," Capps told Computerworld Australia.
"We didn't want this to be a gimmick. Many people will have seen those sorts of extremely plastic 3D prints. Nothing wrong with them, but they're probably not a product you'd want to wear on your face every day."
Mr Capps also added that Sneaking Duck plans to expand the options for its 3D-printed glasses in the future. According to him, the price was also likely to drop as the cost of 3D printing continues to fall.
"If we find people are responding well to it, we'll keep expanding both the range of designs and the ability to customise."
The frames are printed in the USA and take five weeks for free delivery in Australia. The frames come with a six-month warranty covering manufacturing but Sneaking Duck doesn't allow replacements or refunds for any other reason.
Sneaking Duck is the sister site of another Sydney start-up, Shoes of Prey, which sells customised footwear for women.