The world's largest packaging company, Amcor, has received the highest praise for its Nestlé Twin Pouch packaging at the 26th DuPont Awards for Packaging Innovation.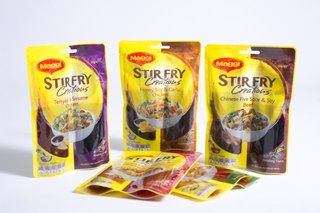 Amcor Flexibles, in collaboration with Nestlé for its MAGGI Stir Fry Creations product range, sold in Australia and New Zealand, developed the Twin Pouch packaging solution that has two co-joined compartments with a centre perforation that allows for easy tear and offers customer convenience.
"Amcor's win at DuPont Awards is testament to Amcor's deep commitment to innovation. We are always working closely with our customers to develop truly unique packaging solutions such as the Twin Pouch and to help them create a unique consumer and packaging experience," said Ralf K. Wunderlich, President of Amcor Flexibles Asia Pacific.
Amcor's packaging solution for the MAGGI Stir Fry Creations product range allows for sauces, pastes and marinades to be combined into two pouches — namely, one pouch holds the marinade, while the other holds the finishing sauce.
"At Amcor, developing innovative packaging solution is a convergence of art and science — we work alongside our customers to understand their end-users needs and leverage on our expanding footprint and expertise in Asia. It is such partnerships that lead to the successful launch of many innovative packaging products in the market today," it says in the media release by Amcor.
The annual DuPont Awards for Packaging Innovation honour "the crème de la crème of the packaging industry." The award was announced in Wilmington, USA on 15 May 2014, recognising excellence in innovations in packaging, design, materials, technology, processes and service across the entire packaging value chain.