Minister for Industry Lily D'Ambrosio met on Friday with representatives from Victoria's three major car makers and local component manufacturers in Broadmeadows and Geelong to discuss the successful transition of the local industry.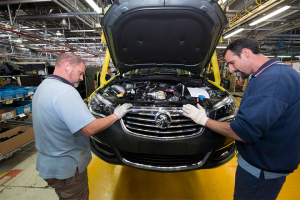 The Roundtable event – which followed a similar event held in Dandenong earlier this month – was attended by representatives from approximately 15 companies who were acquainted with the Government's plans and ideas on how it will assist auto workers and businesses after Ford, Toyota and Holden cease manufacturing operations in the country by 2017.
Ms D'Ambrosio told the roundtable that the Andrews Labor Government was working with the whole automotive sector to ensure the transition process was "targeted and effective" and that auto workers had the "skills, training and information" to secure new jobs.
"We're working to ensure automotive companies successfully transition to other manufacturing opportunities, drawing on the industry's advanced manufacturing, design and engineering skills," Ms D'Ambrosio said.
"Hearing from automotive companies and workers has been invaluable and will form part of our work to assist the auto industry to innovate and adapt."
She said that despite recent challenges, Victoria's automotive industry remained a leading designing, engineering and manufacturing force, with first-class R&D capabilities and a significant capacity to diversify and transfer into future industries.
Minister D'Ambrosio added that the Labor Government has launched a number of initiatives to alleviate the transition of the auto sector and help secure the future of its workforce.
"To support local economies grappling with the wind down of manufacturing activities and to assist with the transition, the Labor Government has committed an additional $18 million to support the Melbourne's North Innovation and Investment Fund (MNIIF) and the Geelong Regional Innovation and Investment Fund (GRIIF)," she said.
The Labor Government is helping auto workers with initiatives including the Business in Transition Support Program, Workforce Development Centres in Geelong, Broadmeadows and Dandenong and Careers and Transition Advice Services.
The access to the Victorian Training Guarantee has also been expanded, allowing auto workers to re-skill at any level.