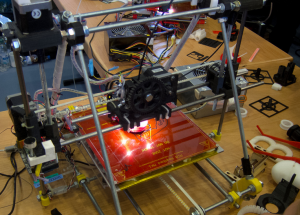 Status Technologies in Ulverstone, Tasmania has received a $185,000 grant from the Tasmanian Government Innovation and Investment Fund (TGIIF) to help the business expand its operations, according to a media release.
The grant will be used by Status Technologies to acquire a 3D printer and CNC machine to manufacture vehicle-to-vehicle communication systems in Tasmania. The systems help reduce the likelihood of injuries resulting from collision in Motor Sport events by transmitting hazard warnings via in-car units.
The company has previously relied on suppliers and contractors outside of Tasmania to provide its prototyping, 3D printing and modelling services needs. With the assistance from the TGIIF, Status Technologies will be able to do most manufacturing, development and design operations in-house.
"Although first developed for motor sport, Status Technologies has diversified its innovative product into the GPS and remote area tracking and communications domain," says Deputy Premier Bryan Green.
"A major expansion of the product range is being developed for the mining, transport and boating industries."
The grant will also make way for 16 new, full time jobs to be created in Status Technologies over the next couple of years.
"The investment Status Technologies is making in their business is an indication that there is confidence in the Tasmanian economy," says Mr. Green.
The TGIIF, which was launched in October 2012, is an initiative aligned with the State's Economic Development Plan that aims to help eligible Tasmanian businesses accelerate their growth by implementing innovative and sustainable relevant projects.
Out of 89 applications for the second round, 25 were successfully chosen to receive grant funding which totals $3.5 million.
Other recipients of the grant include Nichols Poultry from Sassafras which will install a new chiller, Burlington Berries from Cressy which will install three hectares of table top raised beds to facilitate production expansion, and Southern Prospect from Wynyard which will introduce state of the art automated wire processing equipment. All three companies received $250,000.
"Business confidence has a real impact on our economy and the TGIIF program clearly demonstrates that despite the challenges we face, businesses in a range of industry sectors across the state have the confidence to invest in new capital, equipment and innovation," Mr. Green said.
The projects from Round Two of the TGIIF are expected to create an additional 262 FTE jobs in the first 24 months statewide, according to the Tasmanian Government's website.
Meanwhile, the Third Round of TGIIF which was announced in this year's state budget is worth $2.5 million and will support business investment in innovative and sustainable projects to create new and lasting jobs said Deputy Premier Green.