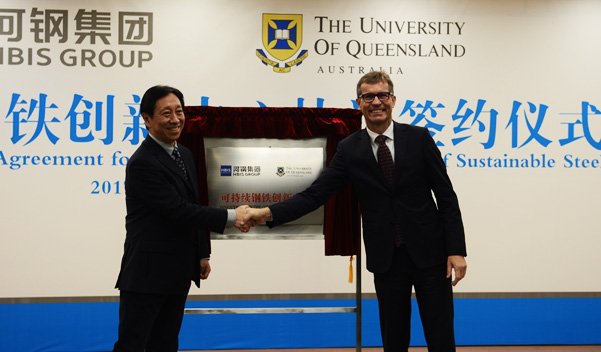 Chinese iron and steel manufacturing conglomerate Hebei Iron and Steel Group (HBIS) has teamed up with The University of Queensland to conduct collaborative research in the fields of environmental engineering, metallurgical resources and high-quality steel manufacturing.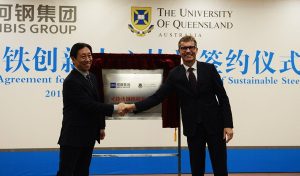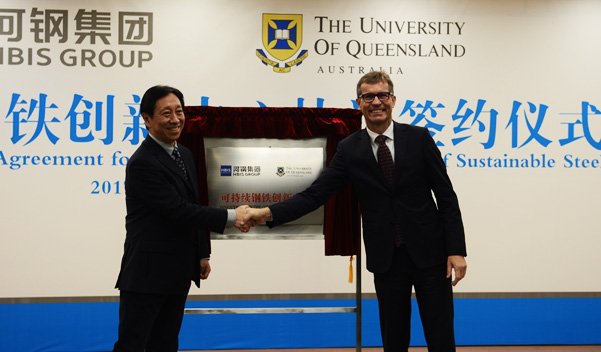 Under the agreement, the Fortune Global 500 company will invest A$5.25 million over the next five years in a new HBIS-UQ Innovation Centre for Sustainable Steel (ICSS), which will be based in Brisbane.
UQ President Peter Høj, who flew to China to formally consolidate the agreement with HBIS Chairman Mr Yong Yu, said the partnership will strengthen the collaboration between UQ and HBIS which had been developed over the past year via an exchange of staff and technical capability.
"Clearly we are excited to partner with such a significant organisation, especially considering this will be the first overseas research and development centre for HBIS," Professor Høj said.
He said the centre will take UQ's educational resources, cutting-edge theory and research capacity to create training opportunities for HBIS, while providing educational opportunities and occupational training for UQ staff and students.
"HBIS has a strategic target to become the most competitive steel company, and we are excited to work alongside such an ambitious organisation and offer expertise in the area of sustainability," Professor Høj continued.
"We are positioning ourselves at an exciting frontier for engineering and resources. This is a partnership that Brisbane, Queensland and Australia can be proud of, further harnessing our strong relationship with China."