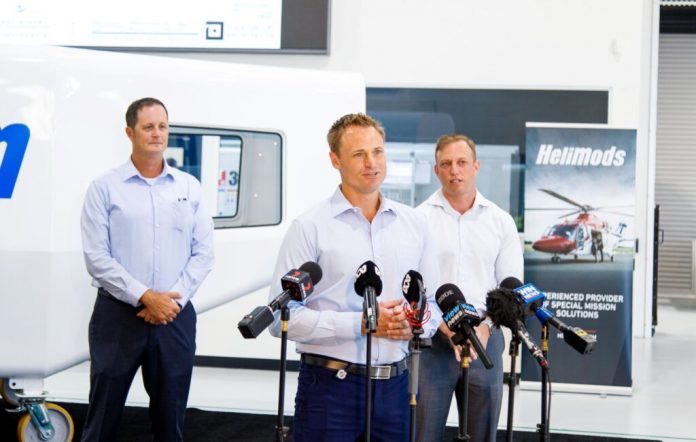 Local aerospace company HeliMods will deliver a large-scale, state-of-the-art aircraft manufacturing and modification facility at Caloundra with support from the Queensland Government's Jobs and Regional Growth Fund.
HeliMods is a Sunshine Coast-based engineering company that specialises in advanced helicopter modification for complex missions – including emergency medical retrieval, search and rescue, aerial policing and special operations.
Queensland Premier Annastacia Palaszczuk said the partnership with HeliMods would allow the company to accelerate the $10.3 million expansion of its current facility by almost five years.
"Aircraft manufacturing and maintenance has great potential to grow our economy and create thousands of local jobs in years to come," the Premier said.
"By partnering with HeliMods, we can ensure that we create more of these jobs in Caloundra.
"Because we've been able to minimise the impact of the coronavirus pandemic in Queensland, we can now focus on rebuilding our economy.
"That means more jobs and more projects like this that will pump millions of dollars into the Sunshine Coast."
Deputy Premier and Minister for State Development Steven Miles said the partnership would create 'more than 65 Sunshine Coast jobs'.
"We have a plan to rebuild the economy and create more opportunities for locals," Mr Miles said.
"Advanced Manufacturing is a growth industry. We're tapping into this rapidly growing, global industry to stimulate our economy here in Caloundra.
HeliMods said the facility expansion will include hangars capable of accommodating large civil and defence aircraft, such as Boeing CH-47 Chinooks, in a segregated and secure environment.
The company's founder Will Shrapnel confirmed the company would also invest in capability enhancements across advanced engineering and manufacturing, and cyber-physical security systems.
"This expansion marks a new and exciting milestone for our business. We have worked hard over the years to build capability that is unique and sovereign and have established a proven track record in industry across both Australia and global export markets," Mr Shrapnel continued.
"This investment will now allow us to further scale our capability and become a major player in the aerospace and defence industries, from right here on the Sunshine Coast.
"It represents an opportunity for us to become a next-generation provider to defence, one that can deliver the highest levels of quality and rigour, without compromising on speed or agility.
"Through this growth, we will also create greater opportunities for our region and seek to pave the way for new, technology-enabled careers for the next generation of talent."
Image credit: www.helimods.com