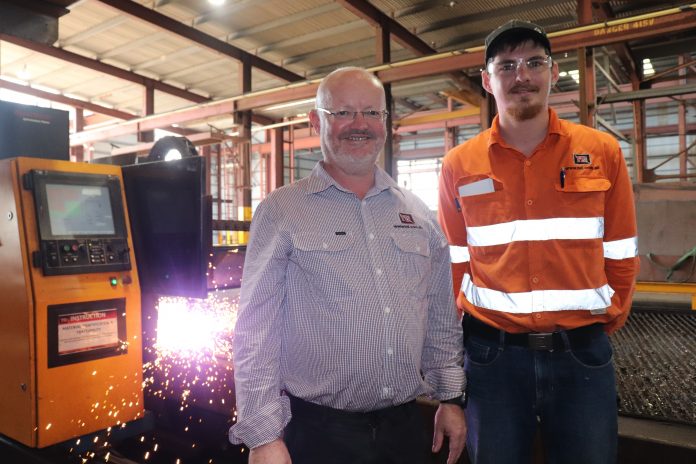 Media Release
The fourth industrial revolution, also known as Industry 4.0, is rapidly transforming how businesses operate and TAFE Queensland is at the forefront, equipping today's workers with the skills they need to adapt to rapid technological advancements and help grow Queensland's economy.
Through the Higher Level Apprenticeship Pilot, more than 40 trades professionals are undertaking apprenticeship training, studying a Diploma of Applied Technologies which is the first qualification of its kind in Queensland.
The Queensland Government has invested $300,000 in the Higher Level Apprenticeship Pilot and has partnered with TAFE Queensland, Skills Lab and Ai Group to encourage industry to embrace new digital technologies.
TAFE Queensland General Manager (north region) Tim Campbell said the diploma mixes workplace learning with cutting edge training at campuses in Townsville and Brisbane.
"For 15 weeks over two years, apprentices attend a TAFE Queensland campus to gain high-level skills to support the future growth of the manufacturing, engineering, energy, transport and infrastructure industries throughout Queensland and their supply chains," Mr Campbell said.
"The training is helping workers develop the latest skills in automation and digitisation from product design to manufacture, enabling them to deliver new and efficient solutions for their employers and clients," he said.
Townsville boilermaker Donnelly Madden works for TEi Services, a general engineering workshop for fabricated steel and machining.
Mr Madden enrolled in the course with the support of his employer, and said the training was showing him a whole new side to engineering.
"I've been a boilermaker for six years and I am also an IT hobbyist at home and create 3D prints and designs. When I found out about the Diploma of Applied Technologies I was really interested in the training," Mr Madden said.
"For me, Industry 4.0 and applying advanced technology and knowledge is very crucial in the workplace. It could open up huge opportunities because it allows you to view industry in a different mindset.
"It is taking my boilermaking to a different standard and it's opened up a lot of opportunities to make processes and tasks simpler, safer and more connected.
"For example, in my hands-on boilermaking role I need required information to do my jobs. The time I had to spend developing my job scope is now reduced because through the use of Industry 4.0 it can build a job pack and it can develop the process and provide me with the right info when I need it.
"Industry 4.0 puts a streamlined process in place for all workers linked to a task and it keeps everything in motion. It helps me with the info I need to get my part of the job done and it then sends that information down the line to the next person in the supply chain so they know what's coming," he said.
TEi Services employs around 50 people, including 12 apprentices. The business has been operating in North Queensland for more than 50 years, exporting products domestically and internationally.
TEi Services General Manager, Richard Parker said it was crucial that training like the Diploma of Applied Technologies was available to help workers upskill and support businesses.
"As newer technologies are incorporated into tooling, new skills and knowledge is required and having that knowledge in-house is advantageous," Mr Parker said.
"There are current skill gaps in our region and these gaps will only get wider if we don't keep up with technology.
"If manufacturing is to survive in Australia against low labour cost countries then we have to work smarter.
"We don't have a monopoly on new technology and it is a given that we can't compete on availability or cost of human resources, therefore we need to embrace new tech if we are to continue to thrive," he said.
Mr Parker said investing in automations will create opportunities for tradies in the workshop.
"The use of technology can be used for repetitive and mundane activities allowing us to re-deploy skilled labour to creative tasks," Mr Parker said.
"We have rolled out WIFI through our workshop to enable equipment to be networked and we have a custom built welding robot on order which is scheduled for installation later this year.
"These advancements will require people to feed data, feed product, and operate and maintain the technologically advanced equipment.
"This is only the start and it's exciting to speculate where industry 4.0 will take us," he said.
Ai Group Queensland Head Rebecca Andrews said the Higher Level Apprenticeship Pilot has generated a lot of interest.
"Developing innovative programs which combine traditional trade skills with high-level technological skills will breathe new life into the apprenticeship system and offer career opportunities to rival those for university graduates," Ms Andrews said.
Skills Lab General Manager Laura Mabikafola said the organisation was proud to support the Pilot and assist with the delivery of training.
"The Diploma of Applied Technologies is a leading edge, nationally accredited course which will help organisations invest in building the right skills their workforce needs for the future," Ms Mabikafola said.