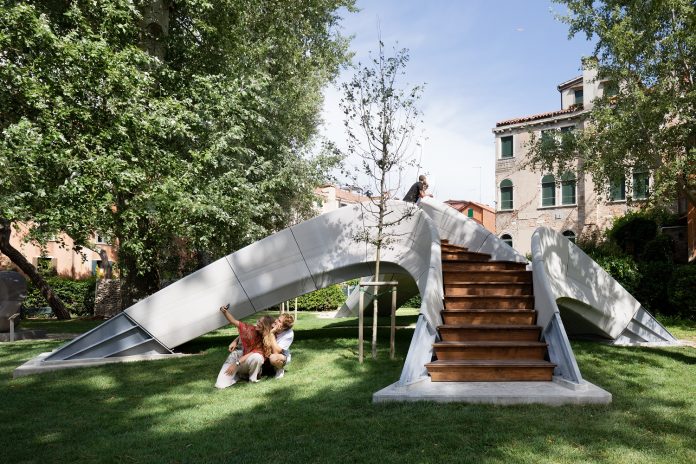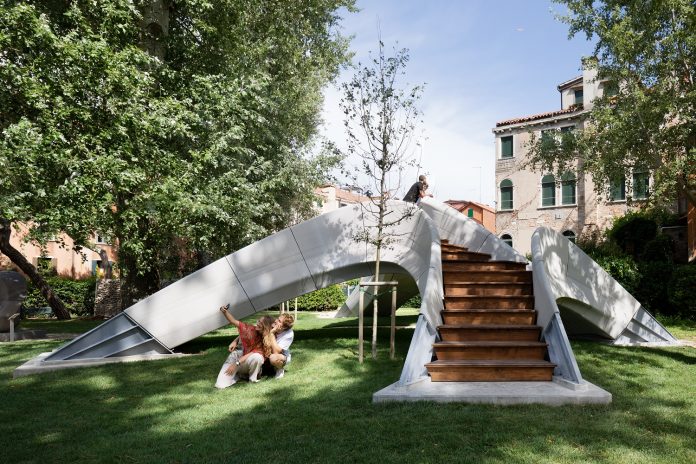 Media Release
On 20 July, Striatus was opened to the public in Venice, the first-of-its-kind 3D Concrete Printed bridge, designed by Block Research Group and Zaha Hadid Architects, in collaboration with incremental3D and Holcim. Striatus establishes a new language for concrete that is digital, environmentally advanced and circular by design. The footbridge holds together through compression with no reinforcements, applying computational design and 3D printing, for minimal material use and maximum strength.
Philippe Block, co-director of the Block Research Group at ETH Zurich: "The name "Striatus" reflects the bridge's structural logic and fabrication process. In arched and vaulted structures, material is placed such that forces can travel to the supports in pure compression. Strength is created through geometry, using a fraction of the materials used in conventional concrete beams."
Shajay Bhooshan, Head of CODE, Zaha Hadid Architects' Computation and Design research: "Striatus stands on the shoulders of giants: it revives ancestral techniques of the past, taking the structural logic of the 1600s into the future with digital computation, engineering and robotic manufacturing technologies."
Jan Jenisch, CEO of Holcim: "Striatus was designed by some of the best architectural and creative minds in their fields. It demonstrates the infinite possibilities of 3D Concrete Printing to enable more sustainable, faster and effective building structures, without compromise on aesthetics and functionality. Its digital and circular design uses concrete at its best, with minimal material use and blocks that can be repeatedly reassembled and infinitely recycled."
George Agriogiannis, CEO of Holcim Australia and New Zealand confirmed that Striatus is made possible by a specific, custom-made ink, from Holcim's TectorPrint range, developed by its 3D Concrete Printing research team. It sets a blueprint to build for the future using advanced technologies from computational design to 3D Concrete Printing. The next generation of inks can include Holcim's green building solutions, such as ECOPact green concrete, including recycled construction and demolition waste.
"Holcim continues to push the boundaries of innovation and sustainability around the world and locally in Australia and New Zealand. In April we launched ECOPact concrete in Australia to offer architects and builders options to reduce embodied carbon by 30 to 60%. Today's opening of Striatus pushes the frontier again to show what is possible with smart collaboration and design ingenuity," Mr Agriogiannis said.
Holcim is working on a range of 3D Concrete Printing applications, from complex infrastructure to affordable housing. In Malawi, Holcim launched the world's-first 3D concrete printed school, taking only 18 hours to build the walls and using 70% less materials than traditional building techniques.
The organisation is also working with GE Renewable Energy and COBOD to 3D concrete print taller wind turbine towers on-site, doubling their height to harness stronger winds and capture 33% more renewable electricity at lower cost.
Striatus is now open to the public during the Venice Architecture Biennale until November 2021.