Holden has confirmed that it will shut down its Australian manufacturing operations in 2017.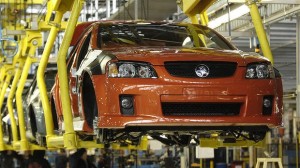 Holden's General Manager Mike Devereux announced the closure in a statement just as he was about to inform the company's workers at their Elizabeth plant about the sad news.
"This has been a difficult decision given Holden's long and proud history of building vehicles in Australia," he said.
"We are dedicated to working with our teams, unions and the local communities, along with the federal and state governments, to support our people."
The company also announced that it plans to transition to a national sales company in Australia and New Zealand.
"We are completely dedicated to strengthening our global operations while meeting the needs of our customers," said GM Chairman and CEO Dan Akerson in a news release.
"The decision to end manufacturing in Australia reflects the perfect storm of negative influences the automotive industry faces in the country, including the sustained strength of the Australian dollar, high cost of production, small domestic market and arguably the most competitive and fragmented auto market in the world."
The announcement comes only a day after Mr Devereux told the Productivity Commission inquiry that no decision has been made yet on the carmaker's future in Australia, amidst growing speculations that Holden will exit from the country in 2016.
On Tuesday Acting Prime Minister Warren Truss demanded that Holden clarify its plans for Australia. According to ABC News, Mr Truss said he was able with Mr Devereux shortly before the decision was made public today.
"We regret the fact that GM is to phase down its operations in this country," he said.
"Holden has been an iconic national brand for Australians, a part of our heritage, which meant a great deal to Australians over several generations.
"Many of us have had the pleasure of travelling and owning Australian-built Holden and it is a pity that that will not continue into the future."
The decision to shut down operations means 2,900 people will lose their jobs – 1,600 from the manufacturing plant in South Australia and 1,300 in Victoria. Mr Truss said the government is prepared to work constructively with General Motors and help its employees during this difficult time.