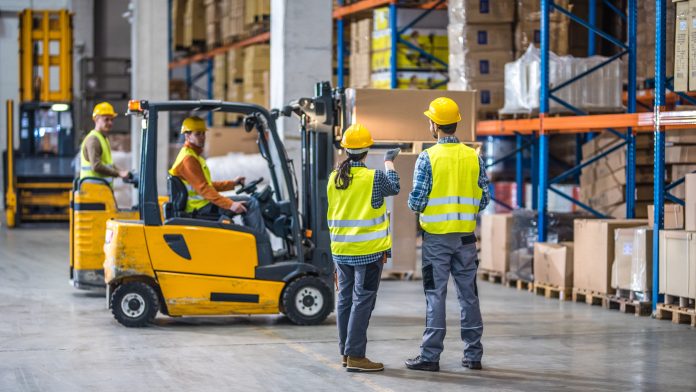 Article by Frank Baldrighi, Business Development Manager,
Getac Technology Corporation
Warehouses are by nature potentially dangerous and often noisy, dusty, and dirty. Air quality can be variable, and heat and fumes can create hazards. Keeping warehouse employees safe and well takes a strong mix of culture, compliance, and the right technology to underpin safety initiatives, according to Getac.
To date in 2021, no fewer than nine workers in the transport, postal and warehousing sector have died at work, making this the deadliest sector to work in. 1 When it comes to disease and injury, warehousing falls in the top five sectors based on the number of serious claims. 2 This demonstrates the crucial importance of maintaining and even improving worker safety. Technology can help do this and it's important to choose the right hardware and systems to maximise outcomes.
Frank Baldrighi, business development manager, Getac Technology Corporation, said, "Today's warehouses are exponentially safer, cleaner, and more productive than they used to be."
Modern systems and approaches to safety have resulted in slightly lower fatality rates since 2003 in the manufacturing industry.3 The number of serious claims for workplace industries in manufacturing has steadily fallen since 2011 but, overall, remains very high.4
Frank Baldrighi said, "Manufacturing, warehousing, and logistics organisations can benefit substantially by incorporating technology into their operations with the express purpose of improving safety as opposed to just raising productivity."
There are five ways technology can help improve worker safety in the warehouse:
Communication tools
High-speed communication and real-time insights let employers know the status of air quality, heat, and specific risks so they can address these hazards before they cause an injury.
Hazard identification
On-site physical safety management through apps and software on mobile devices can help organisations ensure they're identifying and rectifying hazards as they arise. Workers can take pictures of hazards and complete mobile safety checklists and site inductions to ensure everyone is protected.
Virtual and augmented reality
Virtual reality and augmented reality can help with training employees on how to cope with dangerous situations without actually putting them in danger. Augmented reality can let technicians or experienced workers coach others through processes such as machine repair without having to increase the number of people physically in the environment. This can be useful if the repairs are dangerous, conditions are hazardous, or in the case of social distancing requirements.
Drones
Drones can be used when sites are too dangerous for people to investigate, such as if there is a gas leak or other chemical spill. Drones can capture information and let clean-up teams determine the safest course of action without having to be exposed to the danger.
Automation and robotics
Automation improves safety by removing the burden of heavy, manual work from people. Robots can do the heavy lifting, leaving people free to focus on more creative tasks. This is particularly useful in understaffed warehouses where the pressure to maintain productivity can create a culture where some risk is accepted in exchange for getting work done more quickly. Adding robots to the workforce can alleviate the pressure and reduce the risk.
Robots can also help in production facilities where people no longer need to walk from place to place to pick up the materials they need for their portion of the assembly. Instead, robots can bring them the parts they need, when they need them, reducing the distance walked by people and thus reducing fatigue and the risk of accidents.
To fully leverage these technologies, warehousing organisations need to deploy rugged solutions that are built to handle the harsh environment of a warehouse. Simply choosing a consumer-like tablet or notebook to interface with technology will create more problems than it solves in the long run. Instead, organisations should choose purpose-built devices that can withstand drops, shocks, vibration, noise, dust, and temperature extremes.
For example, when completing safety checklists and inductions, using a rugged device with a highly readable screen can help make the process easier. Lighting conditions can vary in warehouses, so a screen that's designed to be readable in harsh glare or dim light is essential, and it's also important to have a responsive touch screen that can be used with gloves, wet hands, or a stylus.
Devices should also include a camera to capture images of hazards and repairs, making verbal or written descriptions unnecessary and improving the accuracy of reporting. This makes it easier to digitalise operations and keep track of issues that need to be rectified.
With augmented and virtual reality applications becoming more commonplace, it's important to choose devices with the processing power and connectivity required to run these applications reliably. Consumer-grade devices don't necessarily meet the standard, and their inability to withstand the warehouse environment makes them a poor choice in this scenario.
Frank Baldrighi said, "Putting the right technology in place can have a dramatic effect on warehouse worker safety, including reducing lost time due to injuries and fatalities. Using the right hardware to access that technology is a crucial piece of the puzzle. It's essential to select a provider that builds truly rugged solutions from the ground up and can stand by those solutions with comprehensive, independent certifications such as Military Standard (MIL-STD), Ingress Protection (IP), ATEX, American National Standards Institute (ANSI), and Salt Fog certification. This should be backed up by a fully rugged warranty as standard, including accidental damage.
"The result is a safer, more productive workplace with reliable technology that stands up to the rigours of the warehouse environment."
To mark the World Day for Safety and Health at Work 2021, Getac honoured the people, coupled with the help of technology, who work to ensure the safety of those in dangerous environments.
---