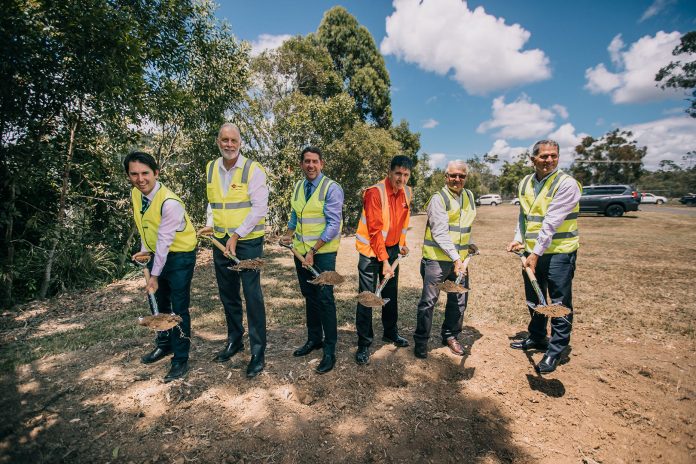 The first sod has been turned for Hyne Timber's advanced manufacturing glue laminated timber plant, which is being built with support from the Queensland Government's 150 million Jobs and Regional Growth Fund.
The $20 million plant will be located next to the company's existing facility in Maryborough and will focus on the large-scale production of glue laminated timber that has the potential to replace steel in major commercial and infrastructure projects.
Acting Premier and Minister for State Development, Manufacturing, Infrastructure and Planning Cameron Dick said the new facility will transform Hyne Timber into one of the largest glue laminated timber manufacturers in the Southern Hemisphere.
"Hyne is delivering a completely renewable product with zero waste in the manufacturing process, and the business' sustainable credentials are generating interest from around the world," Mr Dick continued.
"Maryborough and district residents will reap the benefits of this plant, with up to 80 construction jobs expected to be created, and 42 long-term jobs sustained once operational."
Member for Maryborough Bruce Saunders said construction of the plant is expected to complete by the end of 2019.
"Hyne is to be congratulated for innovating and serving the construction industry for more than 100 years," Mr Saunders added.
"The new facility will ensure this sixth-generation family-owned business is positioned as a major player in the building industry for decades to come."
Hyne Timber CEO Jon Kleinschmidt said glue laminated timber has already started to turn heads in the design and construction industry.
"A lack of competitive Australian supply options has prevented many projects from using glue laminated timber," Mr Kleinschmidt said.
"Increased capability here in Australia will be a game-changer for the construction sector and a very positive area of growth for Maryborough."
He said the new building will be constructed using the company's own products.
"The new building will be constructed using our own GLT, manufactured at our existing plant in Maryborough to further showcase capability and over 40 years of GLT manufacturing experience," Mr Kleinschmidt continued.
"Further, Hyne Timber remains committed to using Queensland products and services throughout delivery of this construction project with a priority on Fraser Coast businesses where possible.
"Every part of this development will celebrate and showcase Queensland businesses and skills as so many businesses and people have supported us over our 137 years of operations."
Image credit: https://www.hyne.com.au