Minister for Industry and Science Ian Macfarlane visited three cutting-edge facilities at Monash University which he said best illustrated the "advantages of greater research and industry collaboration" and set the platform for "significant community and economic benefits for Australia".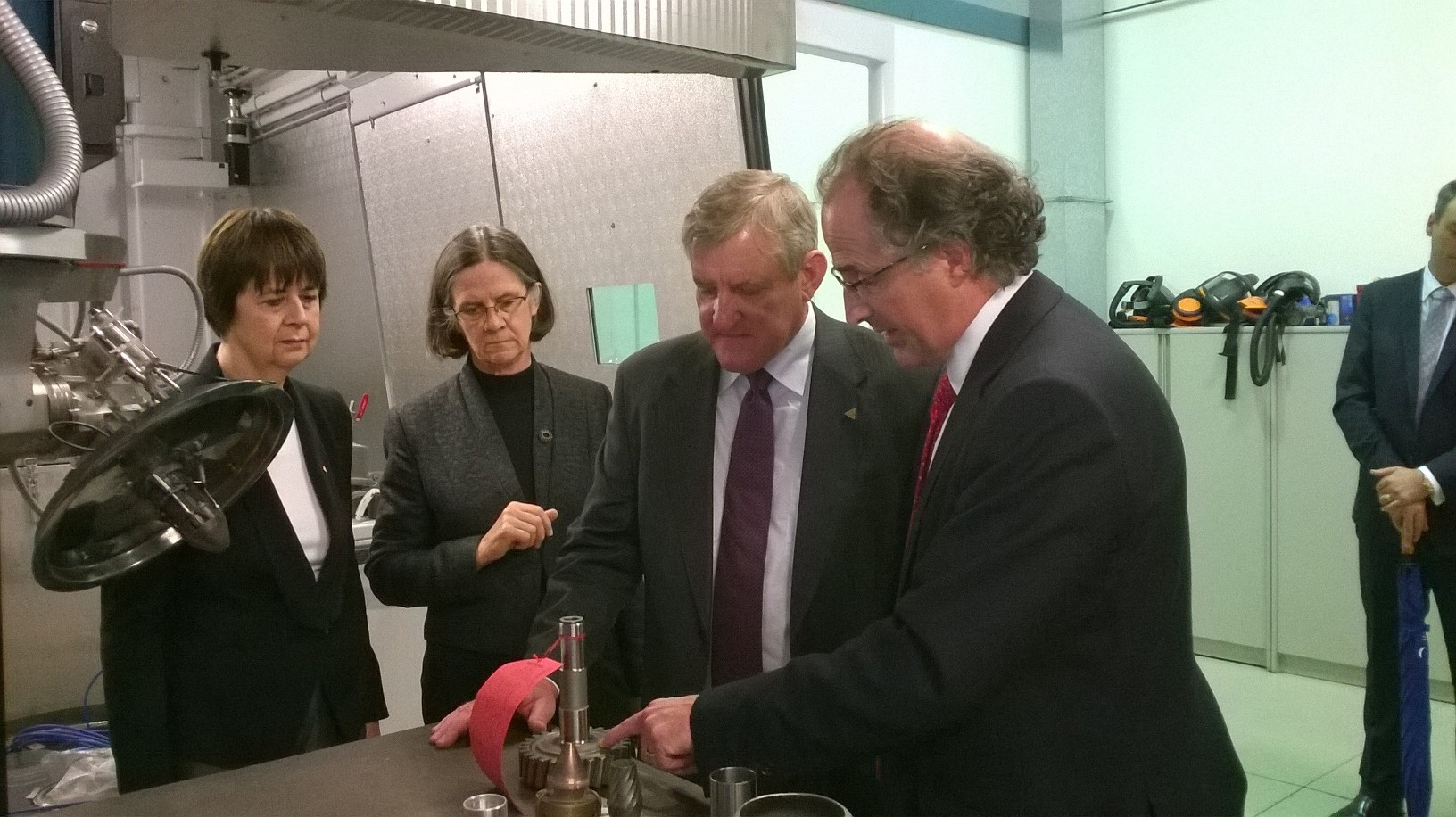 Mr Macfarlane toured the Monash Immersive Visualisation Platform (MIVP), the Monash Centre for Additive Manufacturing (MCAM), and the research facility being constructed at the Monash Health Translation Precinct. The Minister described the facilities as examples of the diverse range of fields in which Australian researchers had a competitive edge.
"These facilities at Monash University's Clayton campus and Monash Health Translation Precinct's Clayton site provide crystal clear examples of the type of collaboration the Australian Government wants to encourage across all of the economy, because they are turning world-class scientific research into real-world and commercial applications," Mr Macfarlane said in a press release.
He said the three facilities had capabilities to make both a local and global impact in their essential fields.
"By providing cutting edge research facilities in disciplines such as big data visualisation, aerospace and biomedical engineering and bench-to-bedside health research translation they offer significant opportunities for connections between industry and researchers in these fields," the Minister said.
"Collaboration is essential to realise the full benefit of our international standard universities, enabling Australia to move towards higher value-added industries that based on innovation and research."
According to him, the Australian Government is aiming to create stronger links between research, science and industry by orchestrating a coordinated approach through a national policy that will articulate a long-term vision for the science, technology, engineering and mathematics (STEM) sector.
"Science is at the heart of industry policy, and we are investing in science and industry infrastructure to ensure that science and research are driving growth in productivity and competivenes," the Minister said.
"The Australian Government's Industry Growth Centres will also facilitate stronger connections between industry and research in the critical areas of food and agribusiness; advanced manufacturing; mining equipment, technology and services; oil, gas and energy resources; and medical technologies and pharmaceuticals."
The Monash Immersive Visualisation Platform is home to CAVE2, also known as the "microscope of the 21st century". It is powering discoveries across engineering, science and medicine.
The Monash Centre for Additive Manufacturing was launched in February 2013. It was awarded $4 million over four years by the Australian Research Council (ARC) and it is focused on creating new opportunities for high-end, high-value added, tailored manufacturing of components for the aerospace and biomedical industries. The Centre made headlines recently for printing a proof-of-concept jet engine that received significant international industry interest.
The Monash Health Translation Precinct Translational Research Facility is set to be completed in December and will connect researchers and clinicians "to ensure scientific discoveries are translated into clinical practice." The Australian Government supported the facility with a $71 million grant.
The Minister added that the Government is seeking community input as part of the development of the national science policy, to be released later this year.
Information on opportunities to participate will be available at http://www.science.gov.au/.