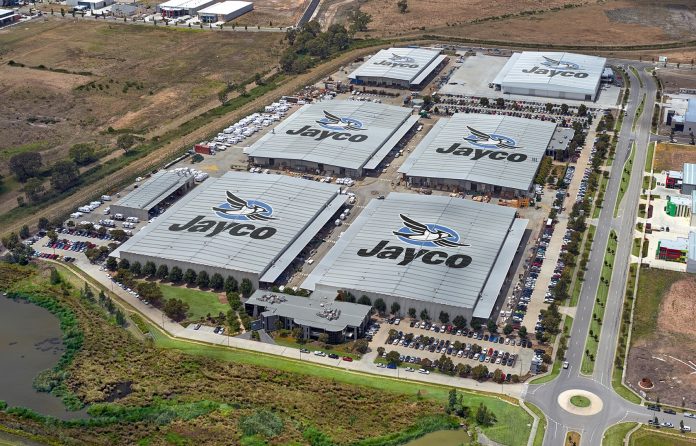 Media Release
Australia's number one RV manufacturer, Jayco is one of the first manufacturing companies in the country to roll out Smart Badge technology to protects its workforce and keep its Dandenong-South manufacturing facility COVID safe.
Smart Badge is an end-to-end wearable solution that will help Jayco employees stay safe. The technology manages contact tracing, social distancing between workers and assists with maintaining capacity limits with ease.
Jayco Australia CEO, Gerry Ryan, said the safety and wellbeing of all employees is top priority and is looking to Smart Badge's wearable technology to help Jayco get on the front foot to give staff and the wider community peace of mind.
"We are extremely COVID conscious and in our large-scale manufacturing environment, diligently managing capacity limits for anyone on site is crucial – from the factory to the front office – Smart Badge's technology helps us do this using real time data.
"We've also put other significant safety measures in place including automatic touchless doors to reduce touch points, additional toilets, staggering of start and break times, sanitisation stations in all work areas, strict cleaning regimes with cleaners on continuous rotation, additional PPE, restricted movement around the site and so much more," Mr Ryan
said.
Smart Badge's General Manager, Simon Finlayson is pleased to see Smart Badge being rolled out in a business of scale. "This could be the difference in a business like Jayco staying open as we navigate a world working with COVID," said Finlayson.
"After protecting your people, it's about protecting shutdowns. Like many businesses, Jayco has already experienced this with the lockdowns and knows the substantial loss that comes with not being able to be in production. Our aim with the Smart Badge technology is to limit closures and give businesses the tools and information they need to stay open and conduct their operations in a safe way."
Jayco's partnership with Smart Badge comes as Jayco employees returned to work following an eight-week closure due to the state lockdown.
"Stage four restrictions were pretty tough, but we're excited to be back. We had to close our Dandenong-South factory and over the eight-week period, we have had significant loss of production. 70 per cent of our production goes interstate so all our customers and dealers are keen for us to re-open.
"The safety measures that we've implemented, including the roll out of Smart Badge, will help us remain safe and socially-distant, so that we can fulfil our customer orders and get people back to enjoy caravanning as quickly as possible," Mr Ryan said.
The integration of Smart Badge technology coincides with Jayco's announcement of more than 250 new job opportunities. The company plans to hire new employees over the next three months as demand for RVs continues to skyrocket.
The new roles include a range from production assembly positions, service technicians and maintenance specialists to team leaders, supervisor roles, office management, and so much more.
"We have had record interest and sales in caravans, camper trailers and motorhomes over the past few months. There has been a near-65 per cent increase in sales nationwide since the start of the COVID-19 pandemic and this has opened up a range of new opportunities at our head office and factory," Mr Ryan said.
"Given the recent rise in caravanning and domestic travel, our facility and production lines have never been busier. We have hundreds of new RVs to deliver to our customers and we're accelerating our production to ensure travellers can get on the road as soon as possible," he said.
As one of the nation's most recognised brands for quality and affordable RVs, Jayco is a great success story of Australian manufacturing. Currently employing 1,000 Australians, Jayco continues to be a locally owned family business. With a 45-year history, all Jayco RVs are manufactured and built in Victoria.