Kenworth Trucks has confirmed that fifty jobs will go from its plant in Bayswater in the Melbourne suburbs.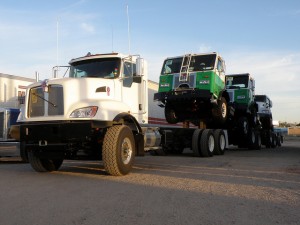 Although the company has not confirmed the number of redundancies, the manufacturing workers union was the one which gave the number of job cuts.
According to a report on ABC News the Australian Manufacturing Workers Union's Dave Smith said the cuts were made in the assembly and office staff positions.
"They are assembly positions, so they're the guys on the line that assemble the trucks," Mr. Smith said.
"I also understand there are some white collar positions that will be lost."
Kenworth said in a company statement that it has adjusted its build rate to match the current market and as a result had to make adjustments to employment levels.
The news about the job cuts comes after the company announced that it has delivered its 50,000th Australian-designed and manufactured truck at the Bayswater plant.
In a media release Mike Dozier, Managing Director of PACCAR Australia said Kenworth's recent achievement is a major milestone not only for the company but for the entire Australian manufacturing industry.
"The heavy-duty truck market in Australia is one of the most competitive in the world," Mr Dozier said.
"In an industry with no tariff protection, no government financial assistance and a high Australian dollar, Kenworth successfully maintains its status as the market leader against dozens of imported brands from the US, Europe and Asia. We continue to successfully deliver high value-added manufacturing – that is, world-class trucks which provide distinct business advantages."
Mr. Dozier said it is crucial that Australia has a local manufacturer which understands the challenges that trucks face in their daily operations.
Kenworth is the only manufacturer offering full design capability, technical expertise and resources to application-engineered trucks for the most extreme on and off-road operations," Mr. Dozier explained.
Kenworth is a division of PACCAR Australia and is market leader in heavy duty trucks in Australia. The company employs over 800 people and its trucks are also exported to New Zealand, Japan, Thailand and Papua New Guinea.