Innovative food and ingredients manufacturer LangTech International is set to convert much of the conventional Golden Circle juice factory in Mill Park into a state-of-the-art facility to produce specialty juices, bioactives and concentrated nutrient drinks for export following negotiations and significant assistance from the Victorian Coalition Government.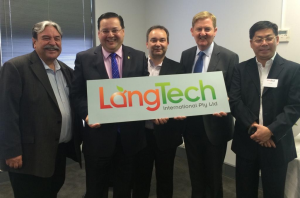 Deputy Premier and State Development Minister Peter Ryan said the expansion of the site into a modern facility would not only provide re-employment for 35 former Golden Circle workers, but would also create more than 100 skilled food manufacturing jobs and significantly boost the company's export capacity.
"As well as continuing to produce conventional juices and now also producing more modern, innovative products, we've negotiated for LangTech to relocate its headquarters from NSW and various operations from around Australia to Mill Park. LangTech will continue to produce conventional juice at Mill Park. However it will also make specialty juices, bioactives and fibre for the food, beverage and Nutraceutical industries," Mr Ryan said.
"LangTech has agreed to employ 105 workers including those retrenched from Golden Circle; relocate management, research and development and processing from other Australian sites to Mill Park; relocate its research and development and most fruit processing facilities from its New Zealand site; purchase fruit from Shepparton and the Goulburn Valley; and develop new technology for processing fruit and vegetables.
According to the media release by the Premier of Victoria, the project is expected to generate $45 million worth of exports a year, replace $13 million worth of imports per year on the domestic market, and invest up to $5 million in R&D a year.
"Highly skilled research jobs will also be created as the company continues to focus on R&D. And Goulburn Valley fruit growers will continue to supply fruit to the company," Mr Ryan said.
LangTech International CEO Bill Nikolovski thanked the Coalition Government.
"LTI believes in the use of advanced manufacturing technologies and continued R&D to generate a range of functional food ingredients. LangTech is positioned to become a significant exporter of functional ingredients extracted from fruits to Asia. This will help further entrench Victoria's global reputation as an exporter of premium food and beverage products," Mr Nikolovski said.
"LangTech International is delighted to receive this funding assistance, which will be used to fund our capex program and support existing jobs at Mill Park, as well as to grow new highly skilled manufacturing jobs in Victoria. We are excited to have moved our operations to the Mill Park site. It provides a great base for us to manufacture our core natural ingredients and continue our R&D. At this site we have access to skilled staff, raw materials and great universities nearby to help us succeed."