Queensland University of Technology (QUT) Professor John Bell, who chaired the Industrial biotechnology and additive bio-manufacturing session at the Advanced Manufacturing Summit in Sydney on Wednesday, says Australia's future economic security depends on emerging technologies such as bio-manufacturing.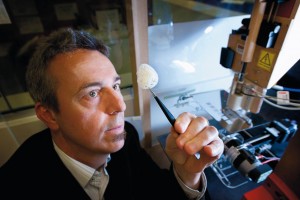 "We have bemoaned the loss of Australia's traditional manufacturing sector but we are on the cusp of a bright new era of high-value, high-skilled manufacturing. Bio-manufacturing includes technologies that produce sustainably derived and renewable feedstock and pharmaceuticals, and bio-remediation services," Mr Bell says.
"The 3D bio-printing market, of which QUT is a leader, is estimated to be worth $3 billion by 2025. We are finding more applications for industrial biotechnology and additive bio-manufacturing all the time and these processes are becoming more established internationally."
Professor Dietmar Hutmacher from QUT's Institute of Health and Biomedical Innovation, who is a world authority on the 3D printing of replacement human tissue using bio-inks, says Australia is already well ahead on research and development of medical bio-printing and a leader in the emerging "fourth industrial revolution" of bio-manufacturing.
"Additive bio-manufacturing has the potential to become a pillar of Australia's advanced manufacturing landscape and we must ensure we develop the talent and infrastructure to continue our lead in this area," Professor Hutmacher says.
"It is a multi-disciplinary area requiring understanding of chemistry, physics, biology, medicine, robotics and computer science. QUT has already partnered with the University of Wollongong and universities in the Netherlands and Germany to offer the world's first dual Master of Biofabrication and is taking applications for the second intake of young scientists keen to make bio-printing their career."
Professor Bell also points out industrial biotechnology as another thriving area for Australia to capitalise on.
"This includes new and improved methods to manufacture a range of molecules with medical and industrial importance such as antibiotics, pain relievers and anti-cancer drugs or items like fuels and the building blocks for plastics and paints," he says.
"Sun Pharmaceutical Industries (Australia) is an example of a major global manufacturer of medicinal opiates for pain relief earning millions of export dollars. The company's Head of R&D, Tim Bowser, will speak during the session on industrial biotechnology and its part in Australia's future."