Australian builder Riviera said it has launched a recruitment drive to meet growing demand worldwide for its luxury motor yachts.
In a news release, the company said that it will add at least 30 new positions at its Coomera manufacturing facility.
Chief Executive Officer Wes Moxey said Riviera is looking for skilled tradespeople in the disciplines of boatbuilding, composite marine electrical engineering fit-out, cabinet making, spray painting, refinishing, and plug and pattern making.
"Increased global demand is allowing us to grow our dedicated team across the entire business and that is great for Riviera, great for manufacturing in South East Queensland, and great for Australia's export trade. We believe strongly in the future of the Australian marine industry and we are leading our industry in nurturing Australia's future master craftsmen and women," he said.
"We are now training almost 40 apprentices directly at Riviera, and the Gold Coast Institute of TAFE's Marine Training Centre is located here on-site alongside the biggest boat-building facilities and recreational shipyards in the southern hemisphere."
According to Riviera Chairman and owner Rodney Longhurst, demand has increased globally across the five distinct Riviera model collections.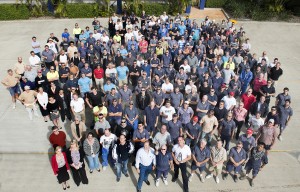 "In particular, we have a superb program of new model development through which five brand-new models have been announced or have made their world premieres so far this year, including the largest and most luxurious Riviera ever, the majestic new 77 Enclosed Flybridge. New models such as the 575 SUV, 57 Enclosed Flybridge and 52 Enclosed Flybridge designs are proving popular around the world," he said.
"Riviera supports a global dealer network spanning some 60 countries," said General Manager Scott Cumming.
"The great loyalty of our Riviera and Belize owners is something we value very highly and we are actively seeking skilled team members who share our values and exhibit a genuine passion for excellence. Through recruiting such high-quality people, we will ensure Riviera continues to be recognised as being amongst the best luxury yacht builders in the world."
Riviera is the largest and most awarded luxury boat building company in Australia.
For more detailed information about the available positions at Riviera, please go to www.riviera.com.au/careers.