Mining services company Macmahon Holdings has announced that it has promoted its Chief Financial Officer Sybrandt van Dyk to Chief Executive Officer.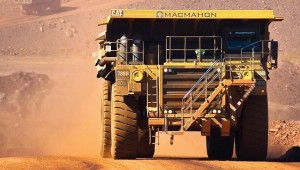 Mr van Dyk replaces Ross Carroll, who resigned in January after spending two years as the company's CEO.
According to the company's ASX Announcement, Mr van Dyk will take over the role of CEO immediately.
Mr van Dyk has been the company's Chief Financial Officer since April 2014 and was previously an executive with Kerry Stokes' mining group WesTrac.
Since joining Macmahon, he has implemented cost reductions, spearheaded lengthy negotiations with financiers, managed the disposal of excess equipment and successfully executed the company's sale of its Mongolian business.
"Sybrandt knows the Company's history and importantly, knows what is required to grow the business and deliver sustainable profits. We are confident that he has what it takes to deliver on the Company's strategic vision – to be a leading international contractor," said Chairman Jim Walker.
Mr Walker said the appointment marked the conclusion of an extensive executive search process.
"The Board was presented with a number of very experienced candidates. Whilst our decision has ultimately been to select an internal candidate, we felt it was important to test the market. In the end, we are very happy with where we have landed," he said.
"Now that our restructure is complete, the path is clear for Sybrandt to establish his own leadership style and set a new, positive direction for the business. On behalf of the Board, we congratulate Sybrandt on his appointment and look forward to working closely with him and his management team as we continue to grow Macmahon."
Mr van Dyk has over 25 years' sales, operational and financial experience primarily within the resources sector.