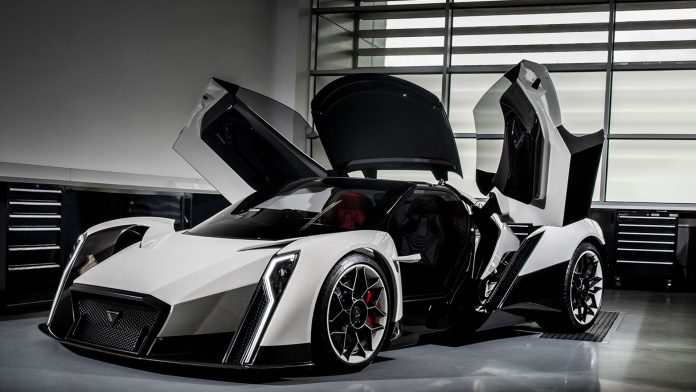 Magnis Resources has signed a joint development agreement with Dendrobium Automotive Limited (DAL), Dendrobium Advanced Technologies Limited (DATL) and Charge CCCV (C4V) to produce the next generation high performing batteries, including semi-solid state batteries, for electric and plug-in hybrid vehicles.
Under the agreement, the four parties will produce the batteries using technology developed by C4V and Magnis, and will also co-operate on the development of battery packaging solutions, battery hybrid systems and battery management software.
C4V's Generation II and semi-solid state battery technologies are targeted for DAL, an electric vehicle (EV) and plug-in hybrid vehicle (PHEV) development and production company with an all- electric hypercar (D-1), which was engineered to an advanced concept stage by Williams Advanced Engineering, part of the Williams Formula1 Group.
Magnis Chairman Frank Poullas said the signing of the four-party agreement was a testament to the quality of the company's groundbreaking technology.
"To work with groups like Dendrobium, who have been developing their e-hypercar with Williams Advanced Engineering and who are at the cutting edge of EV performance engineering, is something that is thrilling for Magnis, its partners and shareholders alike," he stated.
Dendrobium CEO Nigel Gordon-Stewart said the agreement marked a great step towards producing high performance vehicles and electric drivetrain solutions.
"We are blown away by the battery performance that Magnis and C4V can produce and we look forward to working together to produce high performing quality batteries setting the bar for future EVs and PHEVs."
C4V President Shailesh Upreti commented:
"Fine-tuning molecules to bring system level advantage or vice-versa is the key strength of C4V's technology platform."
"Working directly with OEMs such as Dendrobium to resolve system level challenges while engineering molecules to deliver customized and cutting-edge lithium-ion battery cells is C4V's core strategy."
"This agreement also demonstrates how electrochemists, scientists, engineers, mining and automotive experts need to work together as a team to develop next generation products for the rapidly evolving EV market. C4V is very excited to collaborate with one of the finest multidisciplinary team members through this agreement."