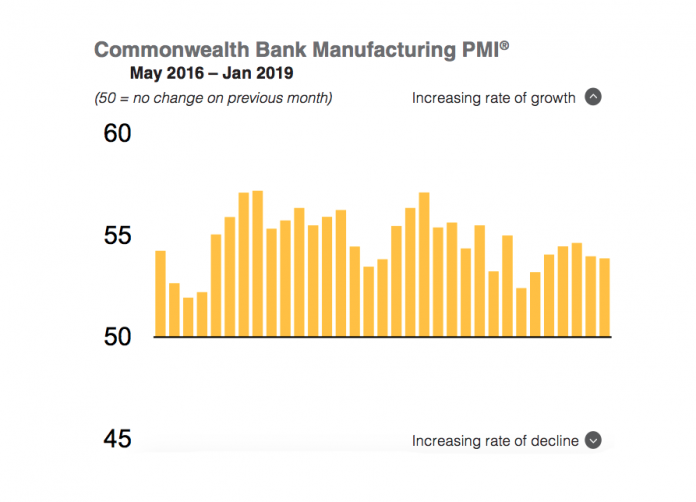 CBA's manufacturing PMI showed that Australia's goods producing sector has experienced a mild slowdown in January, posting its lowest reading since August.
According to the survey, the Australian PMI slipped to 53.9 in January from 54.0 in December.
Despite the slower rate of growth in the manufacturing sector, the survey showed that the upturn remained solid, supported by robust expansions in both production and new sales.
Export sales have expanded at a rapid pace on the back off increased demand from the US and Southeast Asia, prompting Australian firms to continue expanding operating capacities and building inventories.
"The rate of job creation ticked higher in January, reflecting increased hiring efforts to keep on top of additional workloads," reads CBA's report.
"Backlogs of work rose further, albeit at a slower pace. Higher purchasing activity was reported at the start of the year which, in turn, contributed to a further accumulation in input stocks."
The survey also found that greater demand for inputs and material shortages at distributors placed further pressure on supply chains in January, resulting in worsened vendor performances.
"Consequently, vendor performance deteriorated, with the rate at which delivery times lengthened accelerating to the fastest in seven months," it says in the report.
According to the survey, input costs rose further in January due to demand exceeding supply. Additionally, the rate of inflation quickened from December, with firms highlighting increased prices of items, such as grains and industrial metals, and a weaker Australian dollar.
Despite this, business confidence did not waver with more than half of respondents stating that they are expecting higher output in 2019.
"Higher cost burden led firms to raise output prices to protect margins, though the rate of increase was modest," reads the survey.
"Finally, business confidence improved at the start of the year, with 61% of panelists expecting higher output in the year ahead."
Image credit: www.commbank.com.au