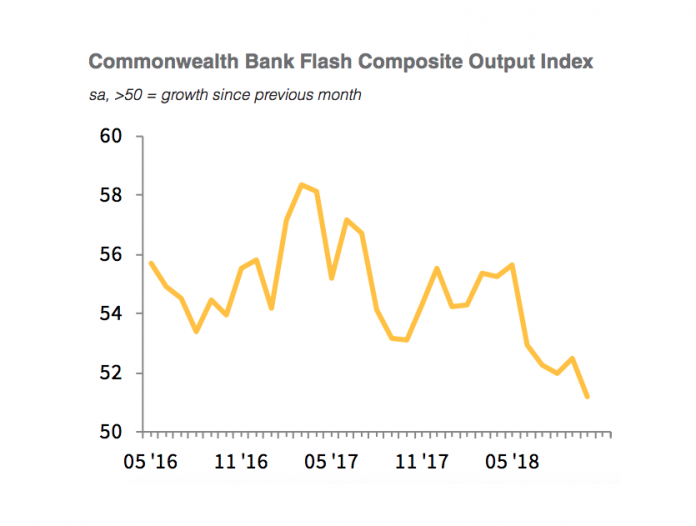 The CBA Manufacturing Purchasing Managers' Index (PMI) rose from 54.0 in September to 54.5 in October, signalling a solid improvement in the health of the Australian goods-producing sector.
Although the latest figure was highest for four months, the survey identified signs of slower growth in demand and new orders, particularly for Australian goods exports.
Export sales rose at the softest rate since August 2017, while the Future Output Index – the gauge for business confidence – remained elevated, but came in at the lowest level for just over two years.
The research also found that the continued expansion in manufacturing activity motivated firms to increase their operating capacities and workforce, elevating job creation to a four-month high.
In the meantime, Australian goods producers scaled up input purchases, with the extent of buying activity growth the greatest seen in six months. This, in turn, boosted stock building, with input inventories accumulating at the fastest pace for nearly a year.
According to the survey, supply chains were squeezed by the greater appetite for manufacturing inputs, with longer delivery times also attributed to shipping delays and shortages of certain raw materials such as steel and plastics.
Input cost rose further in October, driven by the fact that demand continued to exceed supply. Further, cost inflation remained well above its historical average, with firms seeking to protect margins raising their output prices, albeit to a lesser extent compared to the rise in costs.
Commenting on the October's PMI reading, CBA Chief Economist Michael Blythe said:
"The manufacturing and services sectors appear to be on a diverging path in the early part of Q4. Both sectors are expanding. But while manufacturing is turning up again, service activity edged lower again."
"Both sectors are reporting strong jobs growth, however. And new orders continue to lift. The outlook for the remainder of 2018 is still positive. One emerging concern to monitor is that some respondents see downside risks from greater regulation of the finance sector," Mr Blythe continued.
"The lift in business capex over the past year appears to have eased earlier capacity constraints. Measures of the backlog of work have fallen and now sit at neutral levels.  Nevertheless, input and output prices are rising at a solid pace. Higher fuel prices and staff costs are still flowing through.  And the recent drop in the AUD appears to be having an impact as well."
Image credit: www.commbank.com.au