Prime Minister Kevin Rudd has announced a $36.5 million investment to re-train almost 7000 manufacturing workers in high skill, high-tech sectors for the future of the industry.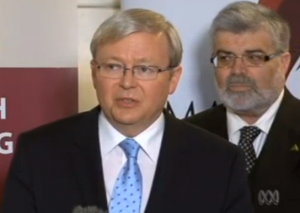 The $36.5 million will establish new training venues for businesses that want to shift from low tech to high tech manufacturing in order to create more value.
According to a report from the AAP published on The Sydney Morning Herald, the funding comes after the Steps to Skills initiative announcement last Sunday, in which $35 million will be spent over three years to help disadvantaged people find jobs.
Speaking to an audience at the Australian Hearing Hub in the seat of Bennelong in Sydney, PM Rudd says supporting manufacturing entails innovation and research.
"Manufacturing is not just about yesterday, manufacturing is also about tomorrow," he told reporters on Monday.
"The bottomline is this: you can't create the jobs of the future unless you're investing in the skills of the future."
"I never want to be the prime minster of a country that doesn't make things any more."
"We believe what we need for the future of our manufacturing is to move up the value-added chain into high skill, high tech sectors."
He also said the Labor Government believes in building the industries of the future to adjust to the end of the mining boom, and through those industries Australia will create the jobs of the future.
Should they return to office, Labor would spend the $35.6 million under the Manufacturing Skills Plus program.
Meanwhile Shadow Treasurer Joe Hockey went on the offensive on Monday as he attacked the Prime Minister's approach to manufacturing, particularly the changes to the Fringe Benefits Tax.
In a related article from The Border Mail, Mr. Hockey reportedly said the Prime Minister is taking a "baseball bat" to the motor vehicle industry of Australia.
He also referred to the $200 million funding announced by Mr. Rudd last week for the automotive industry as "Band-aid over a bullet wound".
The manufacturing debate comes as Treasury and the Department of Finance prepare to hand down the Pre-Election Fiscal and Economic Outlook on Tuesday, according to the report.
Watch the video of the announcement on ABC News.