Mars Petcare has officially opened its $100 million state-of-the-art dry pet food factory in Bathurst, reinforcing its commitment to Australian manufacturing and continuing its proud track record of regional investment.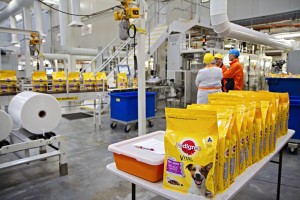 The facility, which is one of the most advanced and versatile dry pet food factories in the Mars Global network, will accommodate 150 local workers and deliver the highest quality dry pet food for millions of much-loved pets all over Australia.
The official opening ceremony, which took place on Thursday, was attended by Optimum® Brand Ambassador Dr Chris Brown, who said the new facility would enable Mars Petcare to further improve product quality and food safety and raise the bar in dry pet food across the board.
"I'm passionate about educating Australian pet owners on the importance of pet nutrition and increasing awareness as to how to access the freshest and highest quality pet food products. Our pets' food is no different to our own," Mr Brown said.
"The fresher it is, the more your little mate is going to enjoy it. And that's the great news here. Your pet's dinner just got even tastier so you can show them even more love. Mars Petcare products are made fresh onsite and delivered straight to retailers in Australia."
Sylvia Burbery, General Manager of Mars Petcare Australia, said the business was a firm believer in sourcing, manufacturing and selling locally wherever possible in order to provide the freshest, tastiest and healthiest food for pets.
"We are proud to build on our significant heritage and investment in Australian manufacturing and regional economies. From our first factory opening in 1966 in Wodonga (where our head office is still located) through to this new, world-class dry pet food factory – we have a proud track record of regional investment in Australia," Ms Burbery said.
"Mars Petcare's contribution to the local area is significant. We have invested $100 million in this facility, which will continue to directly employ approximately 150 local Associates. It is one of the largest investments ever made in the Bathurst community and is one of the most advanced and versatile dry factories in the Mars Global network."
The new factory is equipped with the latest in modern and efficient equipment, energy efficient building design, lean workflow principles and the highest quality and food safety standards, which has direct implications for competitive, low carbon Australian manufacturing.
Its energy efficient build is expected to deliver reductions of 47% in future energy intensity and 40% in carbon intensity – significant improvements on the base position.