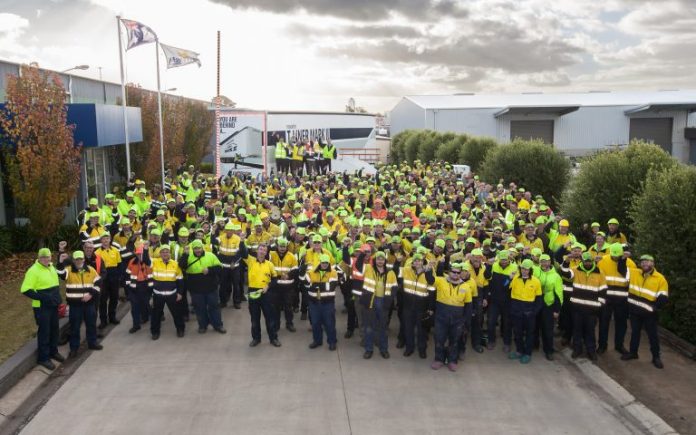 Australia's largest trailer manufacturer, MaxiTRANS, has won a number of prestigious awards at the 2017 Brisbane Truck Show Awards which were presented to the company at the Brisbane Convention & Exhibition Centre.
The company, which recently secured a $60 million contract from supermarket giant Coles for the supply of 395 trailers, has won four awards at the country's premier transport equipment trade show, beating an impressive list of other industry leaders.
MaxiTRANS took home the Best Australian Designed and Engineered Product and the Best Australian Manufactured Innovation Awards for the Freighter T-Liner Mark II curtain system, as well as the Best Trailer Award for the Freighter T-Liner Mark II with load restraint gates; and the Best Component, Equipment or Service Innovation Award for Freighter Hanging Load Restraint Gates.
Managing Director and CEO Dean Jenkins, who presented the awards to the company's 400+ staff at its manufacturing facility in Ballarat, attributed the success to MaxiTRAN's hard working staff in the regional city.
"This is a remarkable achievement and well deserved recognition for everyone on staff. From the team who contributed to building the show trailers, to the engineers, purchasing and operational staff working in the background, everybody has contributed in some way to winning these awards and we should all be very proud," he said.
"The recognition from the judges is testament to our innovation program focussing on increasing the operational safety and productivity of our products. Over the past 3 years, via a list of product releases and upgrades, including those which won the awards in Brisbane, we truly believe that we have become the leading manufacturer of safe, efficient trailers in Australia and New Zealand."
Image credit: maxitrans.com