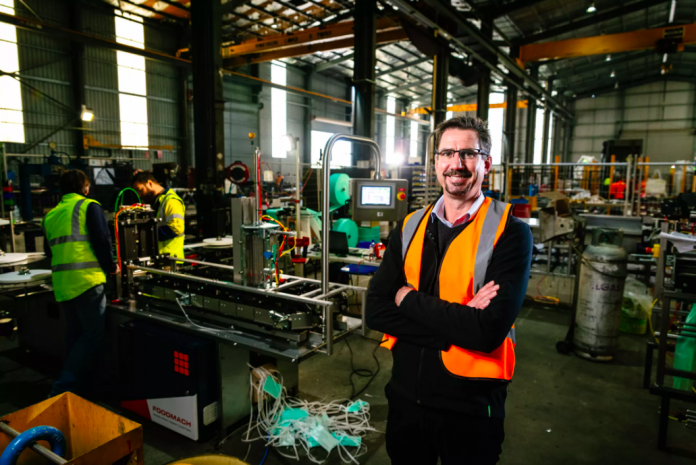 The first of seven mask-making machines being built by packaging automation manufacturer and integrator Foodmach began producing 60,000 masks a day late last month at Med-Con's factory in Shepparton, Victoria.
In March, the Federal Government asked Med-Con, Australia's only surgical face mask manufacturer, to increase its supply of masks from 2 million to 80 million by November.
The ask presented Med-Con with multiple complexities, as only two of their three mask-making machines were operational and all of them required upgrading to current safety, controls and interfacing standards.
Because these machines were designed and built nearly 40 years ago, and no original drawings were available to reproduce them, the Department of Defence was forced to dispatch a team of ADF engineers to disassemble and model the non-operational Med-Con machine.
The team of engineers shared the models with food packaging machine manufacturer Foodmach, which had been appointed to engineer and build the machines due to their experience, capabilities and resources.
Foodmach was given a 60-day deadline to recreate the 40-year-old machines, and the company's CEO Earle Roberts said the entire project involved more than 2000 mechanical design hours for Foodmach, plus another 12000 manufacturing hours to build the machines.
"The timeline was daunting but based on our staff expertise, full in-house manufacturing capability and project control processes we were confident we would meet the timeline," Mr Roberts said.
"We were given a 60-day timeline to engineer and build the first of seven life-saving machines to meet this deadline, targeting production of 60 million.
"Ultimately we were wrong about our ability to meet the timeline, as we actually beat it."
He said the company encountered a number of obstacles along the way, most notably, 'the saga of the lost blueprint'.
"The original machines were designed by Joe Carmody, whose business was a founding partner of Med-Con in 1989 and over the years, the original machine blueprints had been lost, making it impossible to build new machines," Mr Roberts explained.
"Engineers from the Australian Defence Force were called upon to model the parts and these 3D Models were shared with us.
"We then and we had to carry out engineering re-production of the new drawings to facilitate and expedite the manufacturing process.
"It was another layer of complexity in an urgent period that didn't need anymore complexity, simultaneously replicating and old machine while modernising it."
The task also demanded a high level of modernisation that added several new layers of complexity and included the need for comprehensive digitisation that global leader and smart factory advocates, Rockwell Automation provided.
Although Rockwell didn't directly support the building of the machines, it did provide the latest control and automation technology which Foodmach engineers were able to incorporate into the machines.
"We were tapped on the shoulder to support the physical modernisation of the machine to produce a large quantity of PPE masks, but also to provide consultancy and assistance from a technical perspective, given our intrinsic knowledge of automation and smart factory settings," said Daniel Quartel, Territory Manager AU at Rockwell Automation.
"From a technical perspective the key feat for the Rockwell Automation team involved helping Foodmach with the appropriate sizing and specifications for the servo motors and the drives.
"In complex manufacturing projects like this, every component plays a critical role. Our team identified that the Kinetix 5500 Servo Drive would be a critical mechanism for the machine to function and helped integrate the servo seamlessly into the existing Logix platform, ensuring easy configuration, system integration and most importantly, safety."
The project called for nearly 900 unique parts in each machine in terms of individual designs, and a total of 13,500 parts for all 7 machines.
Mr Roberts said Foodmach and Rockwell Automation were able to build modern and automated mask machines, with HMI screens, predictive safety features and infinite speed control well within the given timeline.
"I want to reiterate how proud I am of both Foodmach and Rockwell Automation's efforts in answering this brief, building seven mask machines within 14 weeks was a challenging task but the success of this project is testament to the power of collaboration and determination to help win the fight against Covid-19," he concluded.
Image credit: www.rockwellautomation.com